Anarchronism Finissage
zondag, 14 juni 2015 | 18:00 - 20:30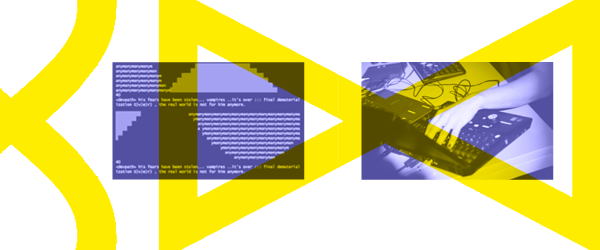 Met performances van Valentina Vuksic & DEMOLECULARISATION
Als afsluiter van de expo nodigen wij u graag uit op de finissage, met performances van Valentina Vuksic ("Tripping Through Runtime") en DEMOLECULARISATION/Jérôme & Jean-Francois Blanquet ("DATA connection").
Valentina Vuksic - Tripping Through Runtime
Een akoestische trip langsheen de elektromagnetische velden van moederborden
Deze performance nodigt uit om een akoestische duik te nemen in harde en zachte computermateries. Een choreografie van software wordt uitgevoerd op enkele laptops, die op verschillende besturingssystemen draaien. De processen worden opgespoord via hun elektromagnetische straling en vervolgens hoorbaar gemaakt. Vuksic tracht het specifieke gedrag van computercomponenten op te sporen en creëert er een publieke performance mee, waarin de toeschouwer een ontmoeting tussen logica en de fysieke wereld kan ervaren.
Valentina Vuksic (CH), 1974, media artist and software developer, engages with the physical foundations of technological systems by audifying computing environments. Her artistic activities since 2008 are encompassed by "Tripping Through Runtime" performances and settings. Since 2012, artistic research assistant for the 'Computer Signals: Art and Biology in the Age of Digital Experimentation' project by Hannes Rickli at Zurich University of the Arts.
DEMOLECULARISATION - DATA connection

"DATA connection" is een project dat de audio-codering van gegevens, opgeslagen op tapes, decodeert. De verwerking openbaart tijdelijk teksten, die afkomstig zijn uit het netwerk. Met draagbare analoge tape-spelers mixt Jean-François Blanquet de zoete melodieën van de digitale code. De audio gegevensstroom wordt op volle capaciteit door computers ontvangen via kabels. Jérôme Blanquet verwerkt de teksten uit de decoders live. Een videoprojector voegt content toe, die vervolgens in real time wordt opgenomen op een VHS-cassette.
Jean-François Blanquet (FR/BE) developed several projects, in which he combines sound and visuals by using specific processes such as transmission/wave reception (radio, infrared, wifi), electronic feedback and larsen (mixer + effects, computer, speaker + microphone), modification and appropriation of audio and video objects (circuit-bending), voice and cut-up (work on text, words and language). In his performances, he recycles technology and develops processes involving loops, larsens, re-injections of the signal and other chain reaction devices.
Jean-François Blanquet often works together with poets, video makers and musicians on multidisciplinary projects and is part of projectsinge group and DEMOLECULARISATION.
Praktische Info
Gratis
De tentoonstelling blijft open tijdens de performances.
Deuren & Bar: 19:30
Performances: 20:00
Locatie: iMAL
30 Koolmijnenkaai - 1080 Brussel
Een archief : 1999-2010-2019
Deze pagina is een archief van de iMAL website zoals die tussen 2010 en 2019 bestond. Alle activiteiten en projecten die sinds het begin in 1999 door iMAL georganiseerd zijn zijn hier gearchiveerd.
Het meest recente nieuws en activiteiten kan je terug vinden op onze nieuwe website: imal.org