Anarchronism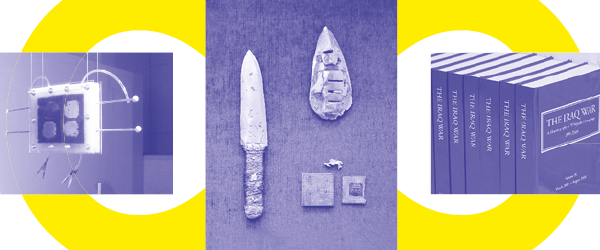 Time-disrupting machines
Anarchronism wil hedendaagse kunstpraktijken benaderen via een portmanteau woord, dat verwarrend kan zijn: de (al dan niet opzettelijke) fout van een anachronisme ontmoet hier de chaos en de autonomie van anarchie/isme. De samentrekking van de twee woorden laat ons toe om kunstwerken, die zelf het resultaat zijn van compressies, beter te begrijpen. Ze suggereren een tijdelijke opsplitsing, die haar gestalte krijgt langsheen moeilijk te dateren artefacten en systemen.
Begrippen zoals media archeologie, retro-futurisme, retromania, neo-analoog of post-internet zetten tijd, technologie en geheugen onder druk. Anarchronism behoort tot dezelfde groep van concepten, zonder er de exacte equivalent van te zijn. Dit idee, en de daaruit voortvloeiende kunstwerken, creëert situaties die de relatie herformuleert tussen het digitale en het analoge, tussen volks en retro, nieuw en verouderd, massamedia en de DIY aanpak van hardware, software en protocollen …
Deze tentoonstelling gaat over de interacties tussen het digitale en het geheugen. Digitale technologie werd steeds geprezen omwille van haar onbeperkte toegang tot data, maar kon uiteindelijk haar missie niet vervullen. De kunstenaars gaan aan de slag met die interacties, zowel op conceptueel als esthetisch vlak, door de stroom vast te leggen, tijdschema's te verstoren, nieuwe manieren te creëren om te coderen/ decoderen en om informatie te verliezen, …
Elk getoond werk wijzigt op een specifieke manier de werkingsmodi van digitale of analoge technologieën: de uitvinding van nieuwe lange-termijn opslagmedia in "1.8S" of van een methode om informatie te coderen en decoderen in "SKOR Codex", de terugkeer naar zeldzame vormen van massamedia (de audiocassette als een opslagplaats voor code), gemengd met moderne elementen in "LogForData", het creëren van nieuwe manieren om bestaande media te lezen, zoals een plotter die een magneetband leest in "REMAP".
Een andere benadering betreft de materialisatie van digitale informatie. De geschiedenis op een Wikipedia pagina wordt een papieren encyclopedie in "The Iraq War: A History of Wikipedia Changelogs". Een mp3-opname -vandaag nog een populair formaat, maar binnenkort achterhaald- van het gegrom van de met uitsterven bedreigde Pyreneese bruine beer wordt gehouwen in een granieten blad in "Stèle binaire". In "Hexen 2.0" verschijnt de geschiedenis van technieken en ideeën zowel in diagrammen als op tarotkaarten. Of omgekeerd: in "The Weise7 in/compatible Laboratorium Archive" wordt de analoge vorm gedematerialiseerd, via een server verborgen in een boek. Dit spel met materialiteit ontstaat zowel in de overgang van digitaal naar analoog, als in het recursieve proces van printen en scannen in "Copies non conformes".
Tenslotte stellen sommige kunstwerken een perspectiefwijziging voor. In "Sketches for an earth computer" wordt de plaats van de mens in technologie onderzocht via becijfering en programmering van een aardcomputer. In "Refonte" wordt e-afval omgezet in rudimentaire wapens, daarmee verwijzend naar een prehistorie van de toekomst. In "Trace I" verandert het perspectief letterlijk door een mechanische scan van een buste.
Met werk van: Cécile Babiole (FR), projectsinge (FR/BE), Balint Bolygo (HU/UK), James Bridle (UK), Collectif Dardex (FR), David Guez (FR), Martin Howse (UK/DE), Flo Kaufmann (CH), Signal to Noise (UK), Société Anonyme (NL), Suzanne Treister (UK) en Weise 7 (DE).
Praktische Info
Tentoonstelling:
15 mei - 14 juni 2015
woensdag - zondag, 13:00 - 18:00
Finissage & performances:
Zondag 14 juni
19:30 - 22:30
Gratis toegang!
Groepsrondleidingen:
02 410 30 93
info@imal.org
Locatie: iMAL
30 Koolmijnenkaai
1080 Brussels
Credits
Anarchronism werd samengesteld door Anne Laforet en Yves Bernard (iMAL), naar een voorstel van Anne Laforet.

De expo Anarchronism is deel van een reeks evenementen, die iMAL in 2015 organiseert rond het thema van digitaal cultureel erfgoed. Deze tentoonstellingen, lezingen en workshops worden georganiseerd in samenwerking met PACKED, het expertisecentrum voor digitaal erfgoed.