warning: unlink(/tmp/19198.XML_API___MODSEC_PREVIEW_VENDOR__.0a9bd528.tmp.cache): Operation not permitted in /home2/imalorg/legacy.imal.org/drupal/sites/all/modules/flickrapi/phpFlickr/phpFlickr.php on line 115.
CreativeFab 2017
1 October 2016 - 31 March 2017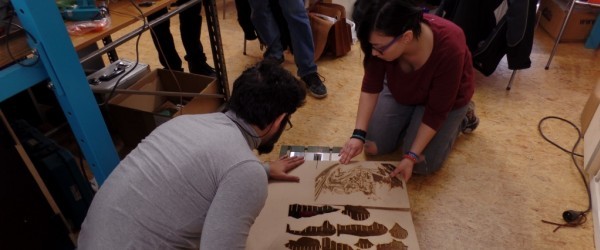 La Cambre
Workshop avec neuf étudiants de La Cambre, section Design textile au FabLab.iMAL les 6, 7, 9 et 10 mars 2017. A l'aide des imprimantes 3D, la découpeuse laser et la fraiseuse numérique les étudiants ont pu réaliser des projets tels qu'un livre revisitant la reliure japonaise.
Travaillant en Design du livre et du papier à LaCambre, mon projet au sein du workshop iMAL s'est naturellement tourné vers le livre.
Ici je souhaite incruster du bois brut au sein d'un carnet de papier. Je revisite la reliure japonaise.
La confrontation bois/papier dans leur tonalité naturelle est ce qui m'intéresse dans ce projet.
Pour ce faire, la découpe des pages une à une a été nécéssaire, ainsi la correspondance bois/papier serait parfaite.
An archive : 1999-2010-2019
This page is an archive of the iMAL website that operated between 2010 and 2019. It compiles activities and projects made since 1999.
For our most recent news and activities, please check our new website at https://imal.org