Studio With A View: the designers at FabLab.iMAL
15 July - 6 September 2013
Julien Carretero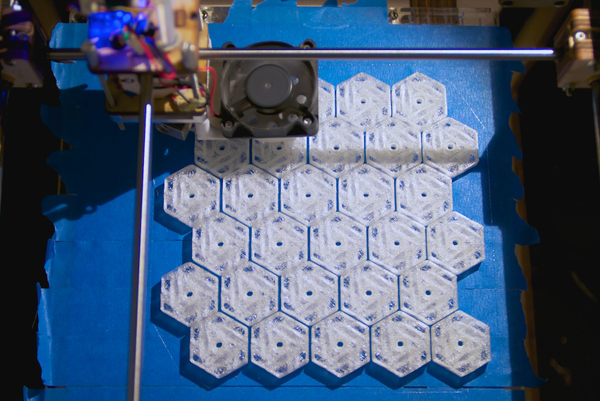 Project:
BITS aims to explore the productive potential of 3D printing.
By focusing on the relation between the printing speed and the size of the printed items, BITS is an attempt to transform the 3D printer into a mass and serial production device.
Therefore, BITS is not an utilitarian object on its own. BITS is a system that allows the creation of objects from various sizes and forms. In order to do so, BITS does not focus on the prototyping of one final object but on the production of numerous small connecting elements that allow the assembly of raw standardized materials. In other words, just like the screw, the bolt and the nail, BITS is in fact just a simple fastener.
About Julien Carretero
Born in Paris suburbs, designer Julien Carretero first graduated in Industrial Design both in Paris and in England. He then chose to pursue his studies in the Master course of the Design Academy Eindhoven, under the direction of Gijs Bakker (Droog Design). After his studies in the Netherlands, Julien worked for two years at Studio Maarten Baas.
His thesis Theme & Variations explored the border between uniqueness and serial production and gave birth to the To be continued series. Julien then decided to establish his studio in Eindhoven and became a member of the design collective Atelierdorp.
His main interest deals with considering the production of objects as a growing process : alive and unpredictable. By creating his own manufacturing processes, he aims at bluring the border between serial and handmade production.
Since he graduated his work has been internationally exhibited from the Salone del Mobile in Milan and Design Miami in the US to the 21_21 Design Sight gallery in Tokyo and ExperimentaDesign in Lisbon, among many others. Julien was awarded the Seb Prize of the Design Parade festival at the Villa Noailles in 2008 (France) and his work is available at Moss (NY), Phillips de Pury (London), Gallery S. Bensimon (Paris) and Victor Hunt (Brussels).
Julien's work is part of the collection of the Fonds National d'Art Contemporain (France).
In January 2012, Julien left the Netherlands to establish his studio in Brussels and co-founded the creative platform Studio With A View.
Exhibition at MAD
5-28 September 2013
Opening: 5 September, 18:00
Opening hours: Tuesday-Saturday, 12:00-22:00
Free entrance!
Location: MAD Brussels
Mode And Design Center
10, Place du nouveau marché aux grains - Nieuwe Graanmarkt
1000 Brussels
An archive : 1999-2010-2019
This page is an archive of the iMAL website that operated between 2010 and 2019. It compiles activities and projects made since 1999.
For our most recent news and activities, please check our new website at https://imal.org