Studio With A View: the designers at FabLab.iMAL
15 July - 6 September 2013
Damien Gernay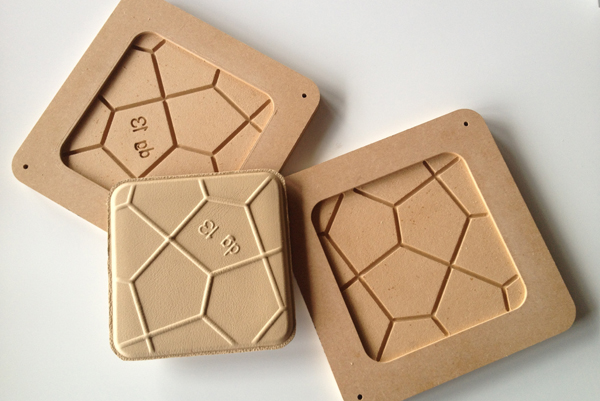 Project:
The project Embossed highlights the programmed and orthonormal movement of the CNC (CNC milling machine) and more particularly that of the 3-axis CNC, referring to the direct and straight feel of Art Deco architecture.
Art Deco is the art of modernism: it is the art of geometry, order, symmetry, sobriety. It is the art of angles, cut-off corners, circles, roundness and octagones.
Embossed is like a waffle mould, engraved digitally and allowing the production of a series of moulded leather tables.
An expansive foam is cast between two sheets of leather in the mould. The foam will goffer the leather while it is expanding. The inlaid kind geometric pattern is used to structure and give to the furniture its final shape.
About Damien Gernay
His approach of the object is determined by a sensitive outlook on today's world. Damien attempts to translate in 3 dimensions a world of perception: where touch becomes volume, visual becomes color, and frequency becomes shape.
Damien tries to make up with the vocabulary peculiar to each materials, and creates his own language by applying, superimposing and confrontating different materials. The object therefore becomes meaningful. It evokes, insinuates, questions. Single or multiple, its meaning becomes coherent.
Exhibition at MAD
5-28 September 2013
Opening: 5 September, 18:00
Opening hours: Tuesday-Saturday, 12:00-22:00
Free entrance!
Location: MAD Brussels
Mode And Design Center
10, Place du nouveau marché aux grains - Nieuwe Graanmarkt
1000 Brussels
An archive : 1999-2010-2019
This page is an archive of the iMAL website that operated between 2010 and 2019. It compiles activities and projects made since 1999.
For our most recent news and activities, please check our new website at https://imal.org