Studio With A View: de designers bij FabLab.iMAL
15 juli - 6 september 2013
Damien Gernay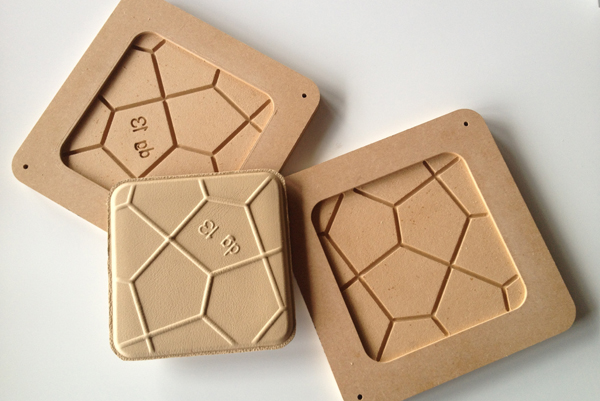 Project:
Het project Embossed legt de nadruk op de geprogrammeerde en orthonormale bewegingen van de CNC-freesmachine (vooral die van de 3-assen CNC) en verwijsd naar de directe en rechte uitgangspunten in Art Deco-architectuur.
Art Deco is de kunst van het modernisme: het is de kunst van meetkunde, orde, symmetrie, soberheid. Het is de kunst van hoeken, afgesneden hoeken, cirkels, rondheid en achthoeken.
Embossed is een soort digitaal gegraveerde wafelvormige mal, waarmee men een reeks van lederen tafels kan produceren.
Een uitzettend schuim wordt gegoten tussen twee lederen bladen in de wafelvorm. Het schuim zal terwijl het uitzet het leder gaufreren. Het geometrische marqueterie patroon wordt dus gebruikt om het werk te structureren en zijn finale vorm te geven.
Over Damien Gernay
His approach of the object is determined by a sensitive outlook on today's world.
Damien attempts to translate in 3 dimensions a world of perception: touch becomes volume, visual becomes color, and frequency becomes shape.
Material has its own vocabulary, he tries to compose with it, to create my his own language, based on applying, superimposing and confrontating different materials.
Therefore the object gets a meaning. It evokes, insinuates, questions. Single or multiple, its meaning becomes coherent.
Tentoonstelling bij MAD
5-28 september 2013
Opening: 5 september, 18u00
Openingsuren: dinsdag-zaterdag, 12u00-22u00
Gratis Toegang!
Plaats: MAD Brussels
Mode And Design Center
Nieuwe Graanmarkt, 10
1000 Brussel
Een archief : 1999-2010-2019
Deze pagina is een archief van de iMAL website zoals die tussen 2010 en 2019 bestond. Alle activiteiten en projecten die sinds het begin in 1999 door iMAL georganiseerd zijn zijn hier gearchiveerd.
Het meest recente nieuws en activiteiten kan je terug vinden op onze nieuwe website: imal.org