Ways beyond the post-Internet
Vendredi, 20 Avril 2018 | 14:30 - 16:00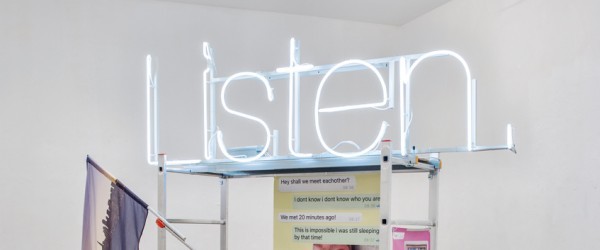 #LAYERS debate at Art Brussels
In the framework of the #LAYERS exhibition, a debate with : Yves Bernard (curator), Peter Beyls (artist), Josephine Bosma (net art theorist), Constant Dullaart (artist), Valérie Hasson-Benillouche (Gallery Charlot), Hampus Lindwall (art collector), Fabio Paris (curator), Domenico Quaranta (curator, art critic and theorist), Carlo Zanni (artist).
Borrowing its title from the (in)famous launch of the Post-internet label at the DLD (Digital Life Design) conference in 2012 (the round table "Ways Beyond the Internet", introduced by Hans Ulrich Obrist), this panel wants to explore recent developments in the field of media art.
Now that a broader aknowledgment that we are living in an age shaped by digital technologies has taken place, that "digital aware art" has found its way in the global art world and market in stable, material, post-digital forms, what's emerging in terms of æsthetics, pœtics, formal choices, politics and economics ?
Infos Pratiques
Friday 20 April, 16h30 - 18h00
Art Brussels / Tour & Taxis
Une archive : 1999-2010-2019
Cette page est une archive du site d'iMAL tel qu'il existait entre 2010 et 2019. Il documente activités et projets créés depuis 1999.
Pour notre actualité et nos activités plus récentes, veuillez vous rendre sur notre nouveau site https://imal.org