warning: unlink(/tmp/19198.XML_API___MODSEC_PREVIEW_VENDOR__.0a9bd528.tmp.cache): Operation not permitted in /home2/imalorg/legacy.imal.org/drupal/sites/all/modules/flickrapi/phpFlickr/phpFlickr.php on line 115.
From the CD-ROM Revolution to the Future of Electronic Publishing
Vendredi, 20 Mars 2015 | 17:30 - 19:30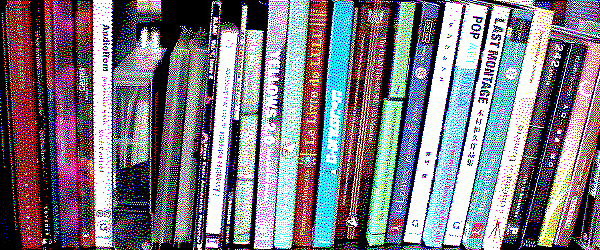 Conférence de Bob Stein (Voyager) et table ronde
Dans le cadre de l'exposition 'Welcome to the Future! The floppy cd-rom revolution' (19 Mars - 26 Avril), iMAL en collaboration avec Packed, PILEn et PointCulture organisent une conférence exceptionnelle de Bob Stein, un des acteurs majeurs des débuts de l'édition électronique, fondateur de The Voyager Company et de l'Institute for the Future of the Book.
La conférence (en anglais) sera suivie d'une table ronde et débat avec Etienne Mineur (éditions volumiques), Pierre Lavoie (ex-Hyptique), Eric Swenson (NEA), Jean-Louis Boissier et Yves Bernard (ex Magic Media, iMAL) animés par Emanuel Lorrain (Packed) et Morgane Batoz-Herges (PILen).
Entrée gratuite! Inscription obligatoire: pilen(at)futursdulivre.be
Les intervenants
Bob Stein (USA) is founder and co-director of the Institute for the Future of the Book and founder of The Voyager Company. The last 13 years he produced more than 300 titles under 'The Criterion Collection', a series of films on videodisc, and more than 75 CD ROM titles including the CD Companion to Beethoven's Ninth Symphony, 'Who Built America', and the Voyager edition of 'Macbeth'. Previous to Voyager, Stein worked with Alan Kay in the Research Group at Atari on a variety of electronic publishing projects. Eleven years ago Stein started 'Night Kitchen' to develop authoring tools for the next generation of electronic publishing. That work is now being continued at the Institute for the Future of the Book.
http://www.futureofthebook.org/
http://en.wikipedia.org/wiki/Voyager_Company
https://www.youtube.com/user/VoyagerLibrary/videos
Etienne Mineur (FR) a été le designer de plus d'une douzaine de cd-roms dont plusieurs furent primés ("Freud", Milia d'Or 1999) ainsi qu'une collection électronique sur des écrivains tels que Marcel Proust. Il a été le designer du site www.isseymiyake.com pour la société japonaise Issey Miyake, site récompensé par plusieurs prix. En 1991, il est co-fondateur et directeur artistique du studio multimédia Index+ (qui réalisera le cd-rom sur Le Louvre), puis en 2000 du studio Incandescence spécialisé en art et nouvelles technologies. En 2009, il co-fonde les Editions Volumiques qui développe de nouvelles formes de jeux et jouets pour plateformes mobiles (smarphones et tablettes) explorant les relations entre les mondes tangible et numérique. Etienne enseigne à l'ENSAD (Paris), l'ENSCI et H.E.A.D (Genève) et a donné de nombreuses conférences (TED Genève, TED Montpellier, Lift, le Web, AGIdeas Melbourne, Chine, Japon, Suisse, USA, Autriche, Mexique, Australie…).
http://www.my-os.net/archives/
http://www.incandescence.com
http://volumique.com
Pierre Lavoie (FR) a été président et directeur de création d'Hyptique, l'un parmi 3 ou 4 studios multimédia qui ont fait la culture interactive en France de 94 à 2005. Hyptique a réalisé une grande partie de la production culturelle de cette décennie et a aussi publié plusieurs titres sous son nom, principalement dans le domaine de la musique. Pierre Lavoie a fondé l'association Numer en 2000, introduisant le terme de design interactif en France et organisant la rencontre de dizaines de designers internationaux avec un très large public. Il a cédé Hyptique en 2011 et oeuvre aujourd'hui comme consultant sur des projets de déploiement numérique auprès des acteurs de la culture.
http://www.pierrelavoie.fr/
Eric Swenson (USA) is the co-founder of Necro Enema Amalgamated (1992-1998) a creative partnership with Supervert to produce BLAM!, the notorious series of art CD-ROMs. BLAM! was shocking, hilarious, stupid, violent, reactionary and revolutionary, inspiring a weird mix of love and hate across a wide range of disciplines: design, new media, art, music, pop culture,...
Subsequent to NEA, Eric has worked forefront of digital media, design, publishing and information services. He is currently responsible for product management and design for Scopus, Elsevier's premier abstract and citation database of peer-reviewed literature.
www.necroenema.com
https://www.youtube.com/watch?v=wbR89xRfNCg
http://supervert.com/nea/nea_agenda
https://soundcloud.com/swensonia/sets/blam-3-soundtrack
Jean-Louis Boissier est professeur émérite en art contemporain à l'Université Paris VIII. Comme artiste, il a créé des installations interactives avec vidéodisques (ex. Le Bus, 1985), des films numériques (ex. Album sans fin, 1989) et des cd-roms (ex. Moments de Jean-Jacques Rousseau, 2000, Gallimard). Comme commissaire, il a participé à la création de diverses expositions d'arts des nouveaux médias (ex. Les Immatériaux, 1985; Machines à communiquer, 1991). Il a été commissaire de la biennale d'art interactif Artifices in Saint-Denis (1990-1996) ; de la Revue virtuelle du Centre Pompidou (1992 -1997), du cd-rom Actualité du virtuel (1996) ; de Jouable, expositions de jeunes artistes chercheurs à Genève, Kyoto et Paris (2002-2004). Ses principaux articles sur l'interactivité en art ont été publiés dans La Relation comme forme (Mamco, 2009) avec l'anthologie cd-rom Essais interactifs.
http://jlggb.net/jlb/
Yves Bernard (BE) a été chercheur en architecture et computer science pendant 10 ans et fonde Magic Media en 1994, un des premiers studios européens de création multimédia spécialisé dans les projets arts&cultures. Il en le directeur mais aussi le co-designer et co-développeur de nombreux cd-roms dont l'Art du Moyen Age pour Gallimard, Milia d'Or en 1998. Il s'occupe aussi de projets Internet dans différents programmes européens. En 1999, il co-fonde l'asbl iMAL (interactive Media Art Lab) dont il est le directeur. Il y réalise de nombreux projets nouveaux média, est commissaire d'expositions et festivals à Bruxelles, en Finalnde et Hollande. Yves est l'auteur ou co-auteur d'oeuvres numériques explorant la fusion entre le monde physique et Internet (Martini Ground Zero, OFFFCAM, The Gate) exposées internationalement (e.g. Cinémathèque of San Francisco/2002, Shanghai Arts Biennial/2010). Il enseigne les arts numériques à l'ERG, Saint-Luc (Bruxelles) et Arts au Carré (Mons)..
http://www.magic.be
http://www.imal.org
Infos Pratiques
Conférence de Bob Stein: 17:30
Table Ronde/Débat: 18:30 - 19:30
Entrée gratuite!
Inscription obligatoire: pilen(at)futursdulivre.be
Adresse: PointCulture Bruxelles
Rue Royale 145
1000 Bruxelles
Crédits
Un évènement produit par iMAL avec Packed (the Centre of Expertise in Digital Heritage), PILEn (Partenariat Interprofessionnel du Livre et de l'Édition numérique) et PointCulture Bruxelles.

Une archive : 1999-2010-2019
Cette page est une archive du site d'iMAL tel qu'il existait entre 2010 et 2019. Il documente activités et projets créés depuis 1999.
Pour notre actualité et nos activités plus récentes, veuillez vous rendre sur notre nouveau site https://imal.org