Welcome to the Future!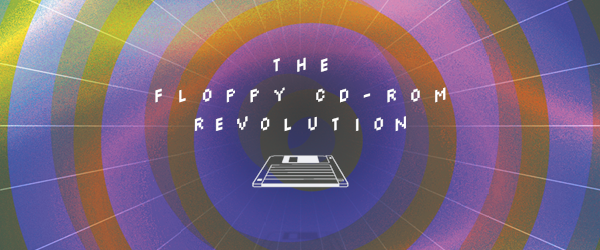 The floppy cd-rom revolution
En 2015, iMAL propose, en collaboration avec PACKED (Centre of Expertise in Digital Heritage, Brussel) un programme d'expositions, symposiums et workshops sur le thème du Patrimoine Culturel à l'ère du Numérique. L'exposition Welcome to the Future! est le point de départ de cette série d'événements, et vise, par une plongée dans le passé, à interroger la durée de vie limitée des œuvres numériques.
Welcome to the Future! présente une sélection d'oeuvres numériques publiées sur cd-roms et disquettes, produites principalement pendant les années 90. L'exposition propose un ensemble de travaux pionniers des arts numériques et nouveaux médias traduisant les visions et utopies du monde numérique alors naissant.
On y découvre le dynamisme de l'édition électronique précédant la popularisation du web. Des contenus remarquables par leurs nombreuses expérimentations novatrices dans l'écriture et la narration hypertexte/hypermedia ; dans le design d'interfaces encore non-conditionnés par une ergonomie normative commerciale ; dans des interactions jouables entre son et images ; dans la littérature numérique ou les arts génératifs et algorithmiques. La plateforme de diffusion était l'Ordinateur Personnel (ou familial) en passe de devenir ce dispositif informatique de masse préparant le monde tout numérique d'aujourd'hui.
Grâce à la collaboration de nombreux collectionneurs, artistes et organisations d'arts médiatiques d'Europe, USA, Japon et Australie, Welcome to the Future! propose une sélection 100 cd-roms et disquettes (parfois très rares).
Les oeuvres sont structurées en 3 thèmes: (1) visions, utopies et politiques sur le monde numérique naissant, (2) nouvelles expressions artistiques numériques et (3) documents hypermedia sur les arts contemporains. La quatrième partie de l'expo est consacrée au thème de la Collection Numérique et du Patrimoine culturel digital.
Ce site web suit la même structure en 4 tabs: 1. Visions - 2. New Art Forms - 3. Documents - 4. Patrimoine. Il propose des textes d'introduction de Marie Lechner et des notices détaillées sur les oeuvres exposées. La partie Interviews contient des entretiens avec 6 acteurs majeurs dans l'édition électronique des années 90: Bob Stein (Voyager), Geert Lovink, Etienne Mineur, Antoine Schmitt, Suzanne Treister et Pierre Lavoie.
Les oeuvres sont présentées avec leur livret et packaging d'origine et les visiteurs pourront interragir avec elles sur des machines d'époque ou actuelles équipées de logiciel d'émulation.
Conservation numérique
Welcome to the Future! n'est pas qu'une exposition sur des œuvres numériques produites il y a 20 ans ; c'est aussi un questionnement sur le futur des contenus numériques produits aujourd'hui. Ces travaux sur cd-rom ou disquette sont des exemples emblématiques du problème de la conservation des contenus numériques. Par l'effet de l'obsolescence logicielle et matérielle, il est devenu quasi impossible de consulter ces cd-roms sur des machines modernes. Dans un futur très proche, il en sera de même des contenus numériques produits aujourd'hui, qu'il s'agisse d'œuvres d'art numérique, d'applications mobiles, d'ebooks ou de webdocs.
Sans un effort substantiel de recherche dans les méthodologies et technologies de conservation des objets numériques, sans décisions politiques concernant les éditeurs de logiciels, les fabricants d'électronique et d'informatique, les grands acteurs d'internet, sans une réflexion profonde sur les problèmes de propriété intellectuelle, sur les rôles et actions des institutions muséales par rapport aux contenus numériques, le patrimoine culturel et artistique né numérique est condamné à mourir d'obsolescence, perdu pour les générations futures. C'est pourquoi iMAL démarre un nouveau projet de recherche, le Resurrection Lab.
Artistes et éditeurs
Artistes: Laurie Anderson, Jean-Pierre Balpe, Bill Barminski, Pierre Bastien & Karel Doing, Zoe Beloff, S.Bilous & F.Lagny & B.Piacenza, Simon Biggs, Jean-Louis Boissier, Philippe Bootz, Gareth Browyn & Peter Sugarman, Andy Cameron, Marc Canter, Leon Cmielewski & Josephine Starrs, David Cunningham & Stephen Partridge, Linda Dement, Antoine Denize, Masaki Fujihata, Michel François, Jim Gasperini & Tennessee R. Dixon, Peter Gabriel, Alain Geronnez, Clive Gillman, Sophie Greenfield & Giles Rollestone, Paul Groot & Jans Possel, Graham Harwood, Lynn Hershman Leeson, Troy Innocent, Jodi, Tamara Laï, George Legrady, Jaime Levy, Marita Liulia, John Maeda, Antonio Muntadas, The Residents, Antoine Schmitt & Vincent Epplay, Keith Seward & Eric Swenson (Necro Enema Amalgamated), Mari Soppela & Leo Anemaet, Alberto Sorbelli, John Thackara, Florian Thalhofer, Suzanne Treister, Gerald Van der Kaap, Die Veteranen, Romain Victor-Pujebet,...
Editeurs: Centre Pompidou (FR), Digitalogue (JP), Ellipsis (UK), Gallimard (JP), Gas as Interface (JP), Hyptique (FR), Mediamatic (NL), Necro Enema Amalgamated (USA), Voyager (USA), ZKM (DE),...
Infos Pratiques
Vernissage: Jeudi 19 Mars
18:30-22:00
Dates:
19 Mars - 26 Avril 2015
Mercredi>Dimanche, 13:00-18:00
Entrée gratuite!
Visites de groupe
02 410 30 93
info@imal.org
Adresse: iMAL
30 quai des Charbonnages - Koolmijnenkaai
1080 Brussels
Crédits
L'équipe curatoriale de Welcome to the Future! est composée de: Yves Bernard (iMAL) et Dirk Paesmans (jodi.org), avec la collaboration de Marie Lechner (Libération, Pamal.org), Emanuel Lorrain (PACKED) et Yannick Antoine (iMAL). Scénographie: Damien Gernay, Design Graphique: Isabel Debry.
Welcome to the Future! est produit par iMAL avec la collaborationde Packed vzw. Tous nos remerciemets aux artistes, éditeurs et collectionneurs, à Sandra Fauconnier and Annet Dekker, V2_, Pierre Lavoie, Bob Stein, Leonardo/Olats (Annick Bureaud), the bwFLA team (University of Freiburg), PointCulture, PILen, Studio Sébastien Lacomblez, ERG et Nadine vzw.

Une archive : 1999-2010-2019
Cette page est une archive du site d'iMAL tel qu'il existait entre 2010 et 2019. Il documente activités et projets créés depuis 1999.
Pour notre actualité et nos activités plus récentes, veuillez vous rendre sur notre nouveau site https://imal.org