From the CD-ROM Revolution to the Future of Electronic Publishing
Friday, 20 March 2015 | 16:30 - 18:30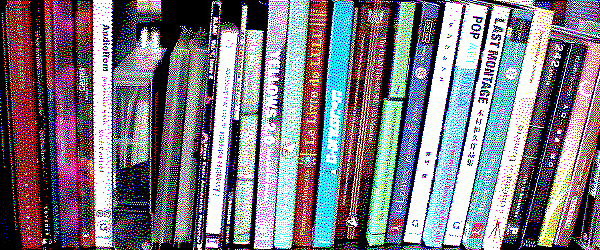 Lecture by Bob Stein (Voyager) and debate
In the context of the exhibition 'Welcome to the Future! the floppy cd-rom revolution' (March 19 - April 26), iMAL proposes, in collaboration with Packed, PILEn and PointCulture, an exceptional lecture by Bob Stein, one of the major and pioneering actors in electronic publishing and founder of The Voyager Company and of Institute for the Future of the Book.
The lecture will be followed by a round table debate, moderated by Emanuel Lorrain (PACKED) and Morgane Batoz-Herges (PILen) and with the participation of Etienne Mineur (éditions volumiques), Pierre Lavoie (former Hyptique), Eric Swenson (NEA), Jean-Louis Boissier and Yves Bernard (former Magic Media, iMAL).
Free access! Mandatory registration: pilen(at)futursdulivre.be
About the speakers
Bob Stein (USA) is founder and co-director of the Institute for the Future of the Book and founder of The Voyager Company. The last 13 years he produced more than 300 titles under 'The Criterion Collection', a series of films on videodisc, and more than 75 CD ROM titles including the CD Companion to Beethoven's Ninth Symphony, 'Who Built America', and the Voyager edition of 'Macbeth'. Previous to Voyager, Stein worked with Alan Kay in the Research Group at Atari on a variety of electronic publishing projects. Eleven years ago Stein started 'Night Kitchen' to develop authoring tools for the next generation of electronic publishing. That work is now being continued at the Institute for the Future of the Book.
http://www.futureofthebook.org/
http://en.wikipedia.org/wiki/Voyager_Company
https://www.youtube.com/user/VoyagerLibrary/videos
Etienne Mineur (FR) has produced more than a dozen cultural CD-ROM's a.o. 'About Freud' (Milia d'Or 1999) and a collection about authors (Marcel Proust ...), published by the Bibliothéque de La Pléiade (BNF). He designed and developed the website www.isseymiyake.com for the Japanese company Issey Miyake, for which he received numerous international awards. He is the co-founder of Incandescence, a publishing house specialized in themes related to new technologies and experimental art. He is also co-founder of les éditions volumiques, a publishing house specialised in new games and toys focusing on the relationship between the tangible and the digital. Etienne is also professor at ENSAD of Paris, ENSCI and H.E.A.D in Geneva.
http://www.my-os.net/archives/
http://www.incandescence.com
http://volumique.com
Pierre Lavoie (FR) was the CEO and creative director of Hyptique, one of a handfull of multimedia studios that defined interactive culture in France from 1994 to 2005. Hyptique has directed a large part of the cultural production of that decade and has also published a number of titles under its name, mostly in the field of music. Pierre Lavoie was the founder of the Numer association in 2000, an organisation that introduced the term interactive design in France and that has set up several public meetings, bringing together international designers. He sold Hyptique in 2011 and is currently consultant on digital issues for major cultural role players.
http://www.pierrelavoie.fr/
Eric Swenson (USA) is the co-founder of Necro Enema Amalgamated (1992-1998) a creative partnership with Supervert to produce BLAM!, the notorious series of art CD-ROMs. BLAM! was shocking, hilarious, stupid, violent, reactionary and revolutionary, inspiring a weird mix of love and hate across a wide range of disciplines: design, new media, art, music, pop culture,...
Subsequent to NEA, Eric has worked forefront of digital media, design, publishing and information services. He is currently responsible for product management and design for Scopus, Elsevier's premier abstract and citation database of peer-reviewed literature.
www.necroenema.com
https://www.youtube.com/watch?v=wbR89xRfNCg
http://supervert.com/nea/nea_agenda
https://soundcloud.com/swensonia/sets/blam-3-soundtrack
Jean-Louis Boissier is professor emeritus of contemporary art at University of Paris VIII University. As artist he created interactive installations using videodiscs (e.g. Le Bus, 1985), digital movies (e.g. Album sans fin, 1989) and cd-roms (e.g. Moments de Jean-Jacques Rousseau, 2000, Gallimard, Paris). As curator he participated in the creation of various exhibitions of new media arts (e.g. Les Immatériaux, 1985). He curated the biennial for interactive art, Artifices in Saint-Denis (1990-1996); the Virtual Review of the Centre Pompidou (1992-1997), the cd-rom Actualizing the Virtual (1996) ; the Jouable, exhibitions of young artists researchers in Geneva, Kyoto and Paris (2002-2004). His main articles about interactivity in art are published in La Relation comme forme (Mamco, 2009) with the cd-rom anthology Essais interactifs.
http://jlggb.net/jlb/
Yves Bernard (BE) was a scientific researcher for 10 years in architecture and computer science, In 1994, he founded the company Magic Media in Brussels, one of the first european new media studio specialised in art&culture projects. He acted as project manager, interaction designer and software engineer for many awarded cd­-roms realised for major publishers (ex. MILIA d'Or Award 1998 for best Art and Culture cd­rom with the 'Art du Moyen­Age' title published by Gallimard). He was also project manager of various Internet and european projects. In 1999, he co­founded the non­profit association iMAL (interactive Media Art Laboratory) where he is its artistic director. He produced various media art projects, and was the curator of many exhibitions and/or festivals in Brussels, Finland and the Netherlands. Yves is the author or co­author of digital artworks exploring the fusion of the physical world with Internet (Martini Ground Zero, OFFFCAM, The Gate) and regularly exhibited (e.g. Cinémathèque of San Francisco/2002, Shanghai Arts Biennial/2010). He teaches digital arts at ERG, Saint-Luc Bruxelles and Arts au Carré, Mons.
http://www.magic.be
http://www.imal.org
Practical Info

Lecture by Bob Stein: 17:30
Round table: 18:30 - 19:30
Free!
Mandatory Registration to: pilen(at)futursdulivre.be
Address: PointCulture Bruxelles
Rue Royale 145
1000 Brussels
Credits
An event produced by iMAL with Packed (the Centre of Expertise in Digital Heritage), PILEn (Partenariat Interprofessionnel du Livre et de l''Edition numérique) and PointCulture Bruxelles.
An archive : 1999-2010-2019
This page is an archive of the iMAL website that operated between 2010 and 2019. It compiles activities and projects made since 1999.
For our most recent news and activities, please check our new website at https://imal.org