Interac wearing: augmented city walks
donderdag, 26 mei 2011 | 14:00 - 18:30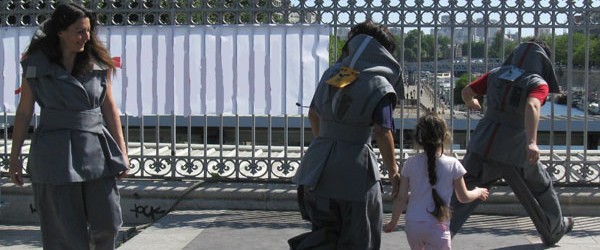 Publieke demo door Experientiæ Electricae
In het "interact wearing"-project registreert kledij het wandeltempo van de personen die deze kledij dragen. De verschillende pakken staan daarbij in verbinding met elkaar. Dit netwerk creëert een auditieve omgeving die gebaseerd is op de interacties tussen de deelnemers en de stad.
Tijdens deze voorstellingsnamiddag, waarmee haar residentie wordt afgesloten, nodigt Natacha Roussel (FR), lid van Experientiæ Electricae collectieve, jullie uit om hun pakken aan te trekken en de stad Brussel met een ander oor te ervaren.
Bovendien kan het publiek bij iMAL meewerken aan een compositie van beeld en geluid (Aymeric De Tapol), die gecreëerd wordt door de wandelingen van de deelnemers. Dit residentie is in samenwerking met Vincent Roudaut (programmatie).
Opgelet: u kunt een pak enkel reserveren via het online inschrijvingformulier.
Over Experientiæ Electricae

Multi-professional collective active in digital design involving both parallel and complementary developments in the artistic fields of design and electronics.
Experientiae Electricae integrates technologies made ​​available at the time of miniaturization / globalization, a critical and artistic appropriation. Their minimalist aesthetic tends to deal from a multitude of elements they manipulate to improve connectivity.
Praktische Info
Geluidwandeling
Reservatie tussen 16:00 en 20:30.
Duur: 1/2h voor max. 6 deelnemers
Inschrijving door het formulier.
Gratis!
Luistersalon
tussen 16:00 en 20:30
Vrije toegang
Vertrek en salon: iMAL
Teaser pic credit: Experientae electricae
Media gallery: iMAL
Een archief : 1999-2010-2019
Deze pagina is een archief van de iMAL website zoals die tussen 2010 en 2019 bestond. Alle activiteiten en projecten die sinds het begin in 1999 door iMAL georganiseerd zijn zijn hier gearchiveerd.
Het meest recente nieuws en activiteiten kan je terug vinden op onze nieuwe website: imal.org