Projection on forms and spaces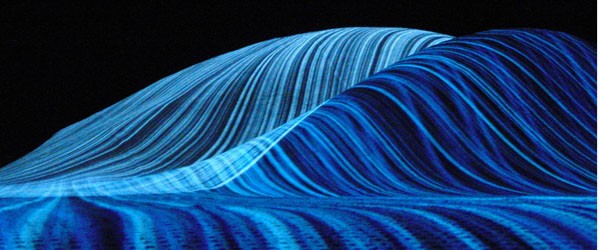 About VPT
Video Projection Tool (VPT) 5.1

VPT is a free, multipurpose, realtime projection software tool for Mac and Windows developed by HC Gilje. Among other things it can be used for projecting video on complex forms, adapt a projection to a particular space/surface, combine recorded and live footage, or for multiscreen HD playback.
VPT is used for installations, performances, AV concerts, theatre projection settings,...
VPT allows you to mix and display various sources into up to 16 layers. Each layer can be scaled/warped/masked/positioned on the output screen to fit the surface you want to project on.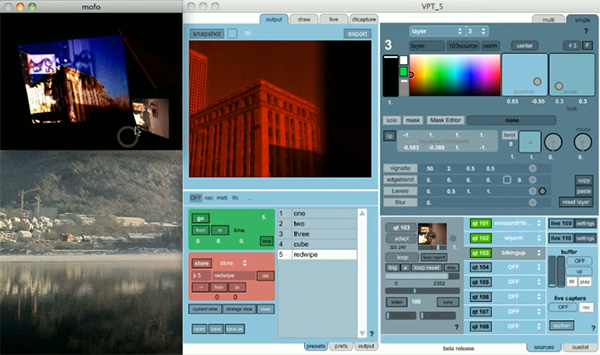 The result can be controlled via OSC, MIDI, as well as serial communication with a microcontroller like the Arduino, making it possible to do complex scripting, use gesture tracking (via OpenCV), sensors (via Arduino), sound analysis, etc...
VPT also features a powerful built-in preset and cuelist system.
Features

Image sources
8 Quicktime movies
2 live video (camera, digitiser, ...)
1 solid colour source & 1 noise source
1 text source (typed live, text file or through OSC)
1 buffer + 1 recorded live capture (based on live video source)
1 Syphon source (Snow Leopard only)
Mixing & effects
Mixers allow you to mix 2 sources together using different mix mode
You can apply effects on your sources with shader-based FX chains
All the 16 layers are stacked on top of each others and can thus be mixed together using blending modes and masks
Control inputs
Serial (Arduino)
MIDI
OSC (Max/MSP, PD, Processing, ...
VPT also includes so built-in controllers, like LFO modules
Outputs
Video to one or multiple projectors (with a Matrox Dual or Triplehead2go)
OSC to communicate with other applications (on the same computer or on a local network)
Serial data to microcontrollers (for instance to control a projector shutter).
DMX (through OSC) to control lights
Sound from Quicktime sources routed to up to 8 sound channels
VPT features can also be extended. It comes with a few Max templates to create your own sources, effect chains or OSC controllers.
More info on VPT 5.1

Call for participation deadline
March 20th
Workshop / Production Lab
April 9-15th
Exhibition
April 16-17th
Workshop Fee
50 EUR
(weekend lunches + drinks included)
The masterclass is in English!
Location:
iMAL
30, Quai des Charbonnages/Koolmijnenkaai
1080 Brussels
BELGIUM

Full info here
Een archief : 1999-2010-2019
Deze pagina is een archief van de iMAL website zoals die tussen 2010 en 2019 bestond. Alle activiteiten en projecten die sinds het begin in 1999 door iMAL georganiseerd zijn zijn hier gearchiveerd.
Het meest recente nieuws en activiteiten kan je terug vinden op onze nieuwe website: imal.org