AV performance
31 januari - 7 februari 2016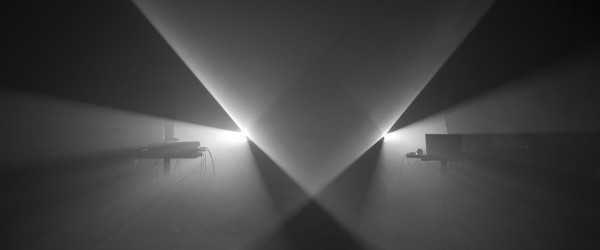 residency by Lumisokea & Yannick Jacquet
We would like to propose a new collaborative project by Lumisokea and Yannick Jacquet. Our goal is to collaboratively create a new A/V live-performance by spring 2016, building on the knowledge and experiences we have gathered from 3 years of touring with our first A/V performance.
To provide some background about the artists involved : the previous Lumisokea & Yannick Jacquet collaborative A/V performance has been presented over 40 times at renowned venues and festivals such as MUTEK (both Canada and Mexico), Multiplicidade (Brazil), CTM Festival (Berlin), Bozar Electronic Arts (Brussels), Rewire Festival (The Hague) and Heart of Noise (Innsbruck).
Lumisokea will release their 4th full-length LP on the well-established Opal Tapes label in january 2016. They have been described by the Wire magazine as "architects of post- industrial dislocation" and as "daring and creative" by German magazine HHV.
Yannick Jacquet has garnered praise for his pioneering work as a video-projection artist with the highly influential AntiVJ visual label, as well as for his work as a visual artist with his "Mécaniques Discursives" installation. This installation work, a collaboration with Fred Penelle, has been presented in galleries and at art events in Japan, Russia, France, Germany, Italy, Poland and Belgium, has featured on "the Creator's Project" website and has been awarded art prizes in Milan and Brussels.
The basic visual idea for the new AV performance is to develop a "shadow play", using a combination of LED strips as highly detailed animated light and 2 projectors for projecting images. Various 3D objects will be constructed at a Fablab specifically for this project, and will be used to break, animate and disperse these sources, creating shadows. By using a array of mesh screens in smoke as projection & shadow surfaces we want to create a slowly developing, living, breathing environment of moving shadows, "organic" imagery and diffuse light. The source material for the projections will predominantly be naturalistic and will come from highly detailed, close-up & zoomed-in raw materials (wood, metal, concrete, stone) as well as long, slowly evolving shots of natural processes transforming these materials such (oxidation, carbonization, corrosion...).
Furthermore, during the residency we want to explore the possibilities of creating a setup in which we would perform at the audience's level of the hall, surrounded by the members of the audience, instead of on a (usually elevated) stage with the audience in front of us. This presents great opportunities in terms of breaking the 4th wall, as well as opening possibilities for multi-channel sound (since the audience will be encircling the performers). However, this could present some considerable limitations and complications on a logistical and technical level, so this has to be investigated in realistic conditions.
Lumisokea will be performing live with their hardware-driven setup, adapting the music from their upcoming albums on Opal Tapes and Alter. The music will interact strongly with the visual environment in terms of narrative, content and feeling, rather than form. We want to avoid obvious interactivity in a literal or technological sense, as well as any obvious reliance on technological novelty.
For us it's important to retain and reinforce the "non-illustrative", almost "anti-visual" aspect of the previous A/V show: the visuals should never be overwhelming, nor should they impose additional information upon the audience. By making the visuals work in a diffuse and non- centered way and by exploring the possibilities of a different spatial relationship between audience, performers, PA and visuals we hope to draw the audience closer, instead of the visuals acting as a reinforcement of the proverbial 4th wall. We strive for the scenography to be an unobtrusive, highly textural and organic environment for the music to live in.
Een archief : 1999-2010-2019
Deze pagina is een archief van de iMAL website zoals die tussen 2010 en 2019 bestond. Alle activiteiten en projecten die sinds het begin in 1999 door iMAL georganiseerd zijn zijn hier gearchiveerd.
Het meest recente nieuws en activiteiten kan je terug vinden op onze nieuwe website: imal.org