Media Facade Reloaded
27 september - 30 september 2011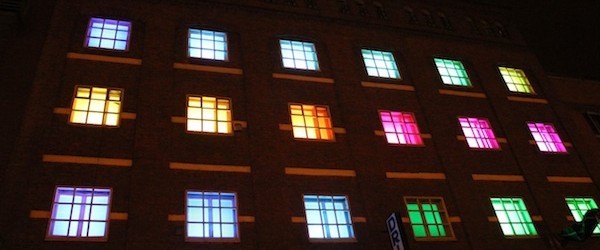 Workshop programme
Wednesday 28 September, 10:00-18:00

-Introduction to the concept of Media Façade and presentation of best practices.
-Technical introduction to iMAL's media facade (hardware+software)
-First design tests with Processing
-Brainstorming on interactive projects proposals
Thursday 29 September, 10:00-18:00
-Development of the projects
Friday 30 September, 12:00-22:00

-Development of the projects
-installation of the LED spotlights, DMX cables, lanbox,...
-Tests on the facade (at night)
Saturday 1st October, 14:00-02:00

-Fine-tuning of the projects
-Presentation during Nuit Blanche Brussels
Practicalities
The media facade workshop is targeted to artists, creative designers and developers working with Processing and eventually Arduino (if needed). Basic knowledge of these software environments is required! (this is not an introduction workshop)
During the workshop you will be followed and supported by iMAL's team:
Marie-Laure Delaby: coordination
Yannick Antoine: software development (Processing)
Jan Vantomme: software development (Processing)
Greg Alveolis: technical support
Workshop: Wedn 28.09 > Sat 01.10, 10:00-18:00
Presentation: Sat 01.10, 20:00-02:00
Language: This workshop is multinlingual (FR, NL, EN) but English will be the common language for group discussions.
Een archief : 1999-2010-2019
Deze pagina is een archief van de iMAL website zoals die tussen 2010 en 2019 bestond. Alle activiteiten en projecten die sinds het begin in 1999 door iMAL georganiseerd zijn zijn hier gearchiveerd.
Het meest recente nieuws en activiteiten kan je terug vinden op onze nieuwe website: imal.org