Walking the Edit Brussels
juli, 2012
-
augustus, 2012
At the end of the road, the movie ...
The project Walking the Edit (WE) is a new and original device at the border between cinema, new technologies, social medias and urban art. The author of the project, Ulrich Fischer, offers a sensory experience by wandering in a city which generates a unique and individual movie for each user.
While the walker goes forward, he hears in real-time the soundtrack of his movie. According to his movements in the urban space, his marching rhythm, in short, his behaviour, the walker edits a video, formal reflection of his progress, based on the shared audio-visual pieces that are virtually existing around him.
To discover the images, the users only have to record their trajectory with the WE application for iPhone and "wake up" the audio-visual fragments related to the urban space crossed. The movie's editing process can be watched during the walk or on the website of the project once the walk is over.
Walking the Edit Brussels
For the elaboration of the update_4 biennial, the Liedts-Meesen Foundation and iMAL produce an adaptation of the project Walking the Edit where Brussels is the content. The considered territory is located in the canal area, situated in the municipalities of Molenbeek-Saint-Jean and the City of Brussels.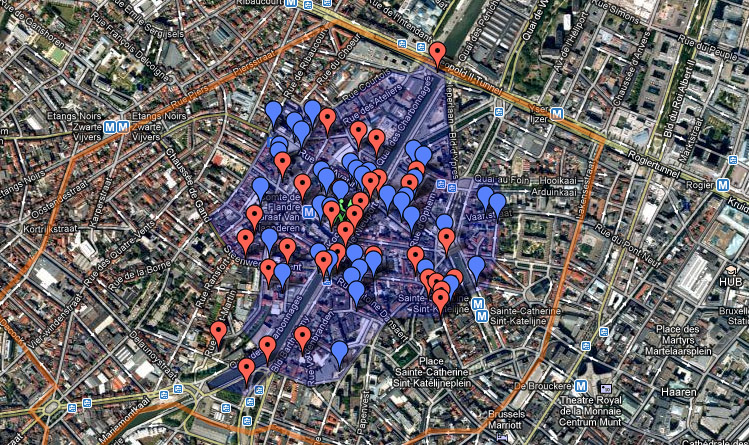 To produce this new version, a team of several artists living in Brussels was hired to shoot the defined territory in every detail. The artists participating in this adaptation are:
- Alexandra Dementieva
- Anton Henne
- Kristina Ianatchkova
- Boris Lehman
- Stéfan Piat
- Dominique Vandervorst
- Ulrich Fischer
The google map here above locates some places where film sequences were shot. These sequences consist in portraits, stories, discoveries or observations which, chained to each other by a software engine, will make up for a singular movie depending on the trajectory of each person using the application.
It is possible to borrow an iPhone from iMAL during the exhibition update_4 and have a walk around the neighborhood to test the project.
Credits

The adaptation of Walking the Edit for Brussels is produced by the Liedts-Meesen Foundation and iMAL.
For the credits of the project Walking the Edit, see its website.

Een archief : 1999-2010-2019
Deze pagina is een archief van de iMAL website zoals die tussen 2010 en 2019 bestond. Alle activiteiten en projecten die sinds het begin in 1999 door iMAL georganiseerd zijn zijn hier gearchiveerd.
Het meest recente nieuws en activiteiten kan je terug vinden op onze nieuwe website: imal.org