Inzenden van dit formulier is niet langer mogelijk.
Digitale Zomerworkshops 2016
12 juli - 12 augustus 2016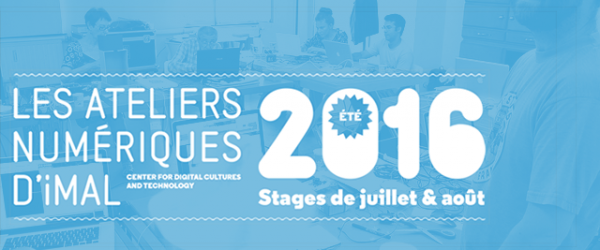 Inscription
Max 15 participants par atelier / inscription obligatoire.
Max 15 participants by workshop / registration mandatory.
Max 15 deelnemers per atelier / inschrijving verplicht
Les ateliers se donnent en Français (compréhension orale nécessaire)
The workshops will be given in French (oral understanding necessary)
De ateliers zijn in het Frans begeleidt (mondeling begrip noodzakelijk)
Practical Info
Prijzen:
Processing: 100€
Blender: 100€
FabLab: 140€ (incl. materiaal)
Arduino: 100€
Raspberry Pi: 50€ / per workshop

Opleiding in het Frans (mondeling begrip noodzakelijk)
Inschrijving: via het online formulier
Opgelet: Wacht niet te lang om in te schrijven: het aantal deelnemers is immers beperkt (maximaal 15 personen). Uw inschrijving is pas volledig nadat wij het inschrijvingsgeld hebben ontvangen! De workshops gaan door bij een minimum aantal inschrijvingen.
Locatie: iMAL
Koolmijnenkaai 30
1080 Brussel