Summer Digital Workshops 2018
10 juli - 6 augustus 2018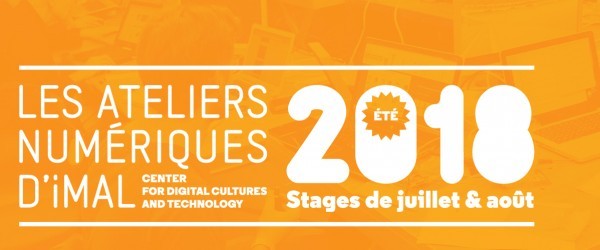 Introduction à la Modélisation 3D : Blender (31 juillet - 3 août)
Blender est un logiciel de modélisation 3D gratuit et open source, utilisé entre autre dans l'animation et le jeu vidéo. Complet et puissant, il offre tous les outils nécessaires à la création de pièces destinée à la fabrication numérique (impression 3D, fraiseuses CNC, …). Durant ces quatre jours, vous aurez l'occasion de vous familiariser avec l'interface de Blender, le déplacement dans la vue 3D, le travail à échelle réelle, la modélisation, les modificateurs et l'exportation pour l'impression 3D.
Lien: blender.org

Prérequis: Utilisation courante d'un ordinateur.
Prix: 100€ (4 jours)
Inscription
Via le formulaire en ligne
Courses take place from 10:00 to 18:00
Language:
French (oral understanding necessary)
Location: iMAL, Brussels
Prices:
Processing: 100€
Arduino: 100€
Raspberry Pi: 100€
Blender: 100€
FabLab: 140€ (incl. material)

Registration: through this online form.
The number of participants is limited!
Een archief : 1999-2010-2019
Deze pagina is een archief van de iMAL website zoals die tussen 2010 en 2019 bestond. Alle activiteiten en projecten die sinds het begin in 1999 door iMAL georganiseerd zijn zijn hier gearchiveerd.
Het meest recente nieuws en activiteiten kan je terug vinden op onze nieuwe website: imal.org