Summer Digital Workshops 2018
10 juli - 6 augustus 2018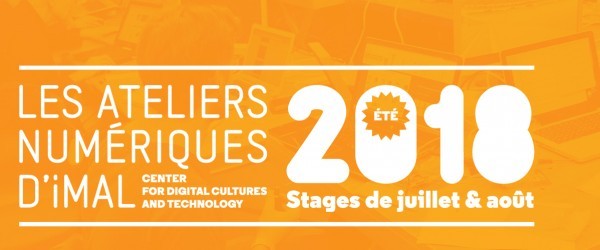 Inscription
INSCRIPTIONS STAGES D'ÉTÉ 2019:
https://legacy.imal.org/summerworkshops2019/inscription
Max 15 participants par atelier / inscription obligatoire.
Max 15 participants by workshop / registration mandatory.
Max 15 deelnemers per atelier / inschrijving verplicht
Les ateliers se donnent en Français (compréhension orale nécessaire)
The workshops will be given in French (oral understanding necessary)
De ateliers zijn in het Frans begeleidt (mondeling begrip noodzakelijk)
VOS INFORMATIONS
Les données que vous nous fournissez sont utilisées: pour l'organisation de ces ateliers, pour la facturation, et pour nos statistiques.
Les informations suivantes sont transmises à des tiers:
- les profils des participants (sans les coordonnées détaillées de contact, genre ou statut Actiris) aux animateurs de chaque stage
- des statistiques anonymisées sur la fréquentation de ces stages, à destination de nos pouvoirs subsidiants Si vous avez des questions ou des remarques à ce sujet, n'hésitez pas à nous contacter!
Courses take place from 10:00 to 18:00
Language:
French (oral understanding necessary)
Location: iMAL, Brussels
Prices:
Processing: 100€
Arduino: 100€
Raspberry Pi: 100€
Blender: 100€
FabLab: 140€ (incl. material)

Registration: through this online form.
The number of participants is limited!
Een archief : 1999-2010-2019
Deze pagina is een archief van de iMAL website zoals die tussen 2010 en 2019 bestond. Alle activiteiten en projecten die sinds het begin in 1999 door iMAL georganiseerd zijn zijn hier gearchiveerd.
Het meest recente nieuws en activiteiten kan je terug vinden op onze nieuwe website: imal.org