warning: unlink(/tmp/19198.XML_API___MODSEC_PREVIEW_VENDOR__.0a9bd528.tmp.cache): Operation not permitted in /home2/imalorg/legacy.imal.org/drupal/sites/all/modules/flickrapi/phpFlickr/phpFlickr.php on line 115.
Web Remix Performances night
Friday, 23 October 2009 | 00:00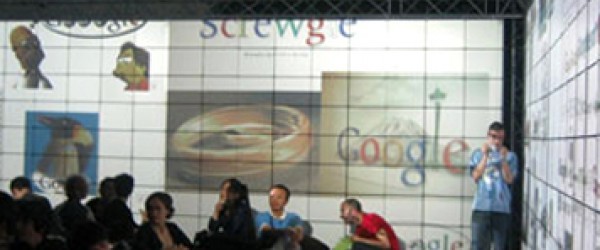 Après le DJ et le VJ, voici le WJ ou Web Jockey. Utilisant le dispositif multi-écran wj-s d'Anne Roquigny, des artistes invités (Yannick Antoine, Michel Assenmaker, Pascale Barret, Lucille Calmel, Danny Devos, Koen Theys) et des étudiants de l'ERG vous joueront leurs performances de web remix.
WJ-S est un logiciel et un dispositif public de performances web, modulable, permettant à des WJ-S (webjockeys, artistes, passionnés et mutants du web) de jouer live avec des contenus en ligne. WJ-S est une expérience partagée et visible de la navigation. Les WJs prennent le contrôle d'un dispositif multi-écrans et surfent simultanément dans plusieurs fenêtres de navigateurs à la fois. WJ-S est une expérience immersive dans le flux.
An archive : 1999-2010-2019
This page is an archive of the iMAL website that operated between 2010 and 2019. It compiles activities and projects made since 1999.
For our most recent news and activities, please check our new website at https://imal.org