Alix Welter: Redux Cubic Baskets
Monday, 27 August 2012 | 22:00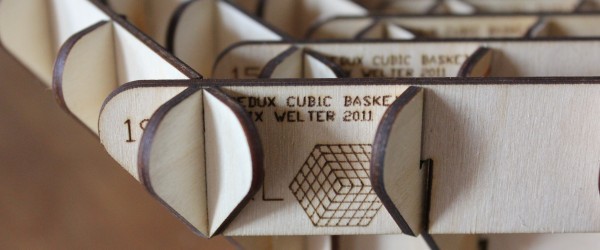 Redux Cubic Baskets (S, M, L, XL)
Alix Welter, young designer and architect coming from Liège and living in Brussels, came to see us this summer to complete his project Redux Cubic Baskets (S, M, L, XL) with FabLab.iMAL's laser cutter.
This serie of stacked baskets is delivired in kit form, disassembled and must be assembled by the user.
It consists in similar and numbered pieces. It uses the original interlocking system of the REDUX serie.
When the baskets are seen from a certain angle, we see the archetypal representation of the cube in isometric perspective.
This work will be exhibited at iMAL during the open doors of Design September 2012 and at the exhibition New Exhibit Design 2012 at TAG.
An archive : 1999-2010-2019
This page is an archive of the iMAL website that operated between 2010 and 2019. It compiles activities and projects made since 1999.
For our most recent news and activities, please check our new website at https://imal.org