Code, Arts & Crafts! 2015 # 2
Saturday, 14 March 2015 | 12:00 - 17:00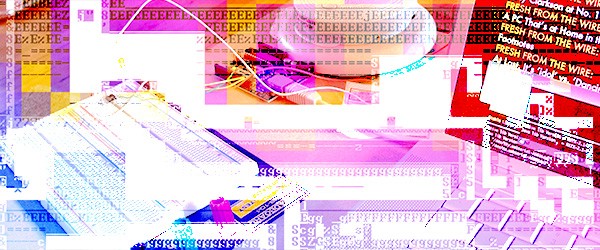 Supporting your new media art projects
Code, Arts & Crafts is a creative platform where artists, designers, makers and students can develop, share and reflect upon their new projects and experiments, made in Processing and/or Arduino. For each session, a team of two experienced iMAL mentors (a.o. Julien Maire, Luc Hanneuse, Yannick Antoine, Vincent Evrard) will follow up on your individual projects and offer technical, conceptual and creational support.
The sessions are free and will take place once a month, on Saturday afternoon, from 13:00 to 18:00.
Basic knowledge of Processing or Arduino required! (for example from the Summer Workshops)
The number of participants is limited to 10. Please send a short description of your project through this link.
Julien Maire is a new media artist. He graduated from the Academy of Fine Arts in Metz and created some impressive works such as "Exploding Camera", "Low Res Cinema", "Demi-Pas" and more recently "Man at Work".
Since the mid-90s he works at the intersection of several disciplines such as performance, media installation and film and produces live-performance works, hybrid both in genre as in media.
His installations and performances have been presented internationally at a.o. Ars Electronica, Digital Art Festival, European Media Art Festival, Rotterdam Film Festival, Sonar, Transmediale, ZKM, etc.
Luc Hanneuse studied two years of physics at the ULB and obtained a Bachelor in sound at the IAD and a Master in sound engineering at INSAS. He regularly works for Musiq3 (RTBF) and the Opera La Monnaie.
Besides his passion for sound, he has been intigrating electronics and programming in various artistic and more practical realisations for over 10 years and developed an interest in using different interfaces and sensors for sound design. He models his works on computer in 2D or 3D. He then produces them in different materials: plastic, wood and aluminum.
Luc has been active at the FabLab of iMAL since a few years. He participated in the documentation, research, construction and maintenance of different machines: laser cutter, milling and digital 3D printers from different generations. He also teaches workshops at iMAL.
More info:
http://wiki.imal.org/contributor/luc-hanneuse
https://plus.google.com/111051764044322384253/posts
Yannick Antoine studied at the École de Rercherche Graphique (option Digital Arts) in Brussels, after obtaining an IT degree.
He is interested in emerging processes, artificial intelligence and (science-) fictional universes, using amongst others online community platforms. In 2005 he co-directed the installation Cellule, followed by the project The Gate in 2007, exhibited at a.o. the Shanghai Biennale 2010.
Yannick teaches digital art at the École Supérieure des Arts Saint-Luc in Brussels and is a developer and webmaster at iMAL.
More information at http://yhnck.com/
Vincent Evrard is a geek with a nerd tendancy. He was born in 1985 near Liège (BE) and still lives in the same area. After passing through ESA ST Luc where he followed Graphic Design, he continued studying Digital Arts at the ERG. His first artistic interventions and connection with iMAL date from then. At that timehe also discovered a love for programming through Processing and started to produce an artistic work around the relationship between humans and machines. He developed the installation "Aphrogenea" and wrote a book about "Fixer les nuages".
Vincent works as an assistant of Felix Luque for the Arduino development of his latest installations and also controles the video console during concerts of OSICA, a band operating between "circuit bending" and "modular synthesis". His latest project is "bcksp.es", an online archiving system of texts, removed by thebackspace key. He currently works on "la grande ouverture du robinet du fun".
Practical Info
Saturday 14 March
13:00-18:00
Workshop leaders can answer your questions in English and French
Free!
10 participants maximum
Please register here!
Saturday 14 March
13:00-18:00
Workshop leaders can answer your questions in English and French
Free!
10 participants maximum
Please register here!
An archive : 1999-2010-2019
This page is an archive of the iMAL website that operated between 2010 and 2019. It compiles activities and projects made since 1999.
For our most recent news and activities, please check our new website at https://imal.org