Julien Maire - Formal Fiction
31 December 2014 - 11 March 2015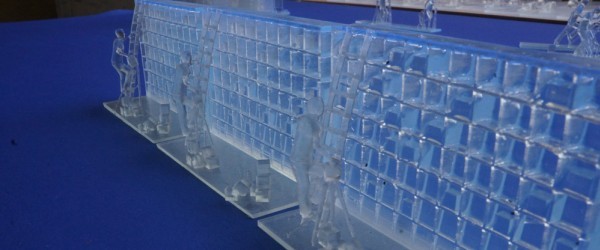 Julien Maire's residency in iMAL
"Formal Fiction" is a film that has been printed using stereolithographic technology. Each image, set and actor in the film has been printed in 3D with transparent resin, and is projected directly onto the screen using a special projector. This short movie revisits the history of film-making techniques and, more specifically, the myth of the 3D (relief) film. The expression "relief film" (from the early 20th century) suggesting a certain materiality, has given way to the modern day "3D film" with the rise of digital technology. A man swimming in a pool, a couple kissing, a handshake - a handful of short scenes that replay archetypal film scenarios that have, as society and the means of production evolve, taken on a very specific substance and meaning.
About Julien Maire
Julien Maire is a new media artist. He graduated from the Academy of Fine Arts in Metz and created some impressive works such as "Exploding Camera", "Low Res Cinema", "Demi-Pas" and more recently "Man at Work".
Since the mid-90s he works at the intersection of several disciplines such as performance, media installation and film and produces live-performance works, hybrid both in genre as in media.
His installations and performances have been presented internationally at a.o. Ars Electronica, Digital Art Festival, European Media Art Festival, Rotterdam Film Festival, Sonar, Transmediale, ZKM, etc.
Credits
Projection in stereolithography 1 , «Man at Work» , 2014
Realisation : Julien Maire
Animation 3D : Paul Jadoul - Studio l'Enclume Brussels
Team realisation : Chiara Colombi, Camille Buti, Jean-Pierre Fargeas
Production: Le Studio - Maison des Arts de Créteil, Formlabs
Coproduction: iMAL & FabLab iMAL
With the support of: WBTD
An archive : 1999-2010-2019
This page is an archive of the iMAL website that operated between 2010 and 2019. It compiles activities and projects made since 1999.
For our most recent news and activities, please check our new website at https://imal.org