MFF 2010: Open Dialogue
Thursday, 16 September 2010 | 19:30 - 21:00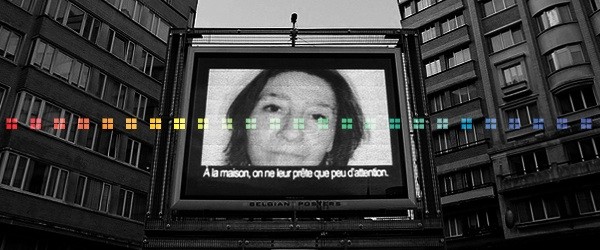 Tales that are never told: ZeroStigma by Toxic Lesbian
After the screening of their video on the Flagey Screen, Toxic Lesbian presents an open debate between iMAL (Brussels) and Medialab-Prado (Madrid), as part of the activities of the Media Facades Festival Europe 2010.
People with mental health problems diagnosed, therapists, families, activists, will generate a discussion group connecting Brussels and Madrid, with critical testimony about the stigma of madness. Collaboratively, people of all genres have built an approach to the meaning of stigma in mental health.
This taboo for society, surrounded by prejudice against the dignity and installed in all aspects of our environment (media, literature, film ...) maintains the belief of a shameful reality that must remain hidden.
Guests
At iMAL (Brussels): Max Nisol, Jochen Vandenworp, Marie Paule Lolo with the collaboration of Marie Laure Delaby.
At Medialab-Prado (Madrid): Carmen Díaz, Juan Carlos Casal, Juanjo San Gil, Guadalupe Morales with the collaboration of Elena Tóxica de Toxic Lesbian.
With the collaboration of Maison Arc en Ciel (Brussels) and ILGA.
More about Toxic Lesbian
Practical Info
Debate open to the public.
Live streaming: www.toxiclesbian.org
Location: iMAL
Credits
With the support of the International Mobility of Creators - Matadero Madrid 2010
Funding Partner: European Commission Culture Programme, French Speaking Community of Belgium (digital art commission)
IT & Media Partners: Streampark, Nacamar