The State of Things
26 November - 18 December 2015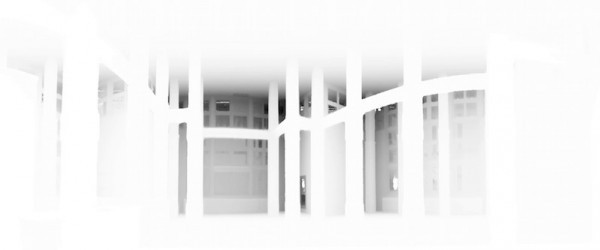 An exhibition by Overtoon & Werktank
At the invitation of iMAL, Overtoon and Werktank put the activities of their residents in the spotlight in a joint exhibition entitled "The State of Things."
The exhibition The State of Things presents recents works by four artists, Mats Dekock, Stijn Demeulenaere, Elias Heuninck and Jeroen Uyttendaele, who were in residency at Overtoon and Werktank in 2014 and 2015. The exhibited works share a particular interest in fleeting moments, that manifest themselves in fractions of sound and light. Can you capture a memory or a moment in electrical circuits?
The works of Jeroen Uyttendaele (Overtoon) and Mats Dekock (Werktank) use electricity as an expressive medium. Uyttendaele uses electricity in its purest form to generate a spark field, while Dekock questions the inner working of our memory and the way we remember things.
Memory is also the theme of the work of Stijn Demeulenaere (Overtoon), which examines the role of our auditory memory. Elias Heuninck (Werktank) designed a camera, that scans the area and slowly creates an image.
In all these works, a moment or a memory is brought to life with mechanical components. What appears at first to be a rational and scientific approach to reality results in creations with strong emotions. Because they differ from our way of experiencing reality and fail to presents its complexity, they reveal something about human perception. Failure is human, but these installations are a deliberate and desperate attempt to grasp reality with technology, with the intention to create a brutal poetry of the moment.
Overtoon & Werktank
Overtoon is a platform for sound art, based in Brussels, that produces visual installations with sound as the basis.
Werktank is a platform for new and old media art, based in Leuven. They produce and distribute installation art that explores the relationship between technology and perception.
Overtoon and Werktank each have their own identity and vision, but they also share some similarities. They are among the only production platforms for installation art in Flanders, working at the cutting edge of media arts and visual arts. Although Overtoon focuses on sound and Werktank on visual art, the work of their residents is characterised by a sensory approach to image, light, sound, etc. Technology is an integral part of the artworks, but never a goal in itself.
Practical Info
Opening
Thursday November 26 2015
18:30-22:00
Dates
November 27 - December 18 2015
Wed-Sun, 13:00-18:00

Tour of the exhibition guided by the artists
Saturday December 12 2015
15:00 - 17:00
Free entrance!
Group visits
+32-2-410 30 93
info@imal.org
Location: iMAL
quai des Charbonnages 30 Koolmijnenkaai
1080 Brussels
Credits
With works by Mats Dekock, Stijn Demeulenaere, Elias Heuninck and Jeroen Uyttendaele
Production: Overtoon & Werktank

"The State of Things" has been made possible thanks to the support of the Flemish Community Commission of the Brussels Capital Region.

iMAL is supported by the Fédération Wallonie-Bruxelles and the Flemish authorities. Werktank and Overtoon are supported by the Flemish authorities

An archive : 1999-2010-2019
This page is an archive of the iMAL website that operated between 2010 and 2019. It compiles activities and projects made since 1999.
For our most recent news and activities, please check our new website at https://imal.org