The State of Things 2017
14 September - 15 October 2017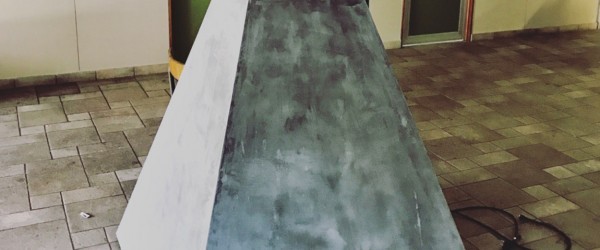 An exhibition by Overtoon & Werktank
This year again, Overtoon and Werktank highlight the activities of their residents at iMAL. Their joint exhibition "The State of Things 2017" presents four installations by artists who work/worked in the studios of Overtoon and Werktank. Overtoon shows 'Multiplicity' by Justin Bennett and 'Polyhedra' by Floris Vanhoof. Werktank shows 'The White' by Kurt d'Haeseleer and Franck Vigroux, as well as 'Search for the frame' and 2 in situ works by Johannes Langkamp.
The artworks
'Multiplicity' (2017) - Justin Bennett
During his residency at Overtoon, Justin Bennett looked into the acoustic territories of Brussels and studied its voices and stories, signals and sirens, sounds of work environments, chirps of birds and other animals, reverberations and resonances of underground tunnels and passageways, ...
His research departed from three parallel approaches. With self-designed active listening devices -like a miniature microphone inside a trumpet or a wooden stethoscope- he manipulated sounds during his recordings, combining listening, improvisation and field recordings. In addition, he recorded his walks -solo, with friends or strangers- through the city and traced out narrative paths. Thirdly, he explored the visual and spatial forms of the city in a series of drawings and sculptures.
In iMAL Justin shows the first results of these three approaches, as a preparation for a new sound installation that will be completed in 2018.
Concept and realisation: Justin Bennett / Co-production: Overtoon, Jubilee, Stroom Den Haag. Thanks to: Collection Famille Servais, Harlan Levey Projects & Hotel Bloom / With the support of the Flemish authorities and the Mondriaan Fund.
The White (2017) - Kurt d'Haeseleer & Franck Vigroux
The audiovisual installation 'The White' consists of a Pepper's ghost-like structure. The Pepper's ghost technique began as a stage illusion. In order to create a ghost apparition on stage, a glass plate was placed between the spectator and the scene. That plate reflected a ghost-actor, invisible for the audience. In 'The White' two white TV screens are reflected, but the reflecting glass plate doesn't show a white image, as could be expected, but two streams of moving images on each side of the plate.
'The White' is an installation that tries to poke into the dark subconscious part of our mind. It confronts us with both our fear and resistance for what is strange and unknown as our fascination and attraction to it. White, a color associated with positivity and goodness, seems to hide a more troubled and complex reality. The sensorial experience of 'The White' is somewhere between ecstasy and fear, like that of a child that hides his eyes from something horrible he sees, but still glimpses through his fingers to see what is happening.
Concept & video: Kurt d'Haeseleer / Music: Franck Vigroux / Design & realisation object: Ief Spincemaille & Bout De Beul / Production: Werktank / In collaboration with: Cie d'autres cordes / With the support of: the Flemish authorities and SCAM Paris
Search for the frame (2011-2016), Pyramid of Vision (2017) & a spatial intervention (2017) - Johannes Langkamp
Johannes Langkamp always carries a camera around. He is fascinated by its operation and the gap between reality and its representation. 'Search for the frame' is a selection of sixteen video sequences from Langkamp's archive of video sketches from the past five years. The compilation is a cumulative view of his research in which he is experimenting with the possibilities of the framed look. By playing with the perspective, he shows how the camera can manipulate reality.
The artist also presents two new creations at iMAL, in which he continues his research: the video installation "Pyramid of Vision" and a spatial intervention, inspired by the location.
Concept and realisation: Johannes Langkamp
Polyhedra (2017) - Floris Vanhoof
With fourty different geometric shapes Floris Vanhoof creates an orchestra of speakers, the newest instrument in his growing collection around the research of our perception. The installation 'Polyhedra' sends a cloud of sounds through space. The different volumes and spatial placement of the objects provide an intense listening experience: every speaker translates the sound different. The spatial circulation of sound through the speakers, combined with the natural musical movements, take the audience on a voyage of sounds along the sculptures.
Concept and realisation: Floris Vanhoof / Co-production: Overtoon, Het Bos and KRAAK / With the support of the Flemish authorities.

Overtoon & Werktank
Overtoon is a platform for sound art, based in Brussels, that produces visual installations with sound as the basis. Werktank is a platform for new and old media art, based in Leuven. They produce and distribute installation art that explores the relationship between technology and perception.
Overtoon and Werktank each have their own identity and vision, but they also share some similarities. They are among the only production platforms for installation art in Flanders, working at the cutting edge of media arts and visual arts. Although Overtoon focuses on sound and Werktank on visual art, the work of their residents is characterised by a sensory approach to image, light, sound, etc. Technology is an integral part of the artworks, but never a goal in itself.
The spatial circulation of sound through the speakers
Practical Info
Vernissage
Thursday September 14 2017, 18:30-22:00
Facebook event

Exhibition dates
September 15 - October 15 2017
Wed-Sun, 13:00-18:00
Finissage
Monday October 16 2017, 20:00
Concerts by Floris Vanhoof & Kraus
In collaboration with Les Ateliers Claus
Facebook event
Free entrance!
Group visits
+32-2-410 30 93
info@imal.org
Location: iMAL
Quai des Charbonnages 30 Koolmijnenkaai
1080 Brussels
Credits
With works by Justin Bennett, Kurt d'Haeseleer & Franck Vigroux, Johannes Langkamp and Floris Vanhoof.
Production: Werktank & Overtoon


iMAL is supported by the Fédération Wallonie-Bruxelles, the Flemish authorities and the Vlaamse Gemeenschapscommissie. Werktank and Overtoon are supported by the Flemish authorities
An archive : 1999-2010-2019
This page is an archive of the iMAL website that operated between 2010 and 2019. It compiles activities and projects made since 1999.
For our most recent news and activities, please check our new website at https://imal.org