warning: unlink(/tmp/19198.XML_API___MODSEC_PREVIEW_VENDOR__.0a9bd528.tmp.cache): Operation not permitted in /home2/imalorg/legacy.imal.org/drupal/sites/all/modules/flickrapi/phpFlickr/phpFlickr.php on line 115.
Homeopape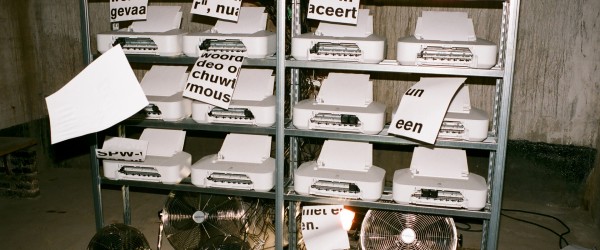 Residency & public presentation by Lionel Maes (24 March)
Lionel Maes will be in a one-month residency at iMAL with his project 'Homeopape'. Homeopape is an installation that reacts to the newsfeed of the Belga news agency. A first version was presented during Nuit Blanche Brussels in October 2015.
On March 24th, the public is invited to discover a new version of Homeopape at iMAL. On March 31st, Lionel will present and explain de project during the 13th edition of DorkBotBRU.
About Lionel Maes
Lionel Maes is an artist, graphic designer and software developper. He is the cofounder of the graphic design studio La Villa Hermosa. The subject of Internet newsfeeds is recurrent in his work, both personnal and with La Villa Hermosa. He teaches in the "code writing" and "digital images" classes at the Brussels art schools ERG (École de Recherche Graphique, Brussels) and Le 75 (École Supérieure des Arts de l'Image le 75).
Practical Info
Public presentation on March 24th
From 17:30 to 20:30, bar open.
An archive : 1999-2010-2019
This page is an archive of the iMAL website that operated between 2010 and 2019. It compiles activities and projects made since 1999.
For our most recent news and activities, please check our new website at https://imal.org