Homeopape
29 februari - 30 maart 2016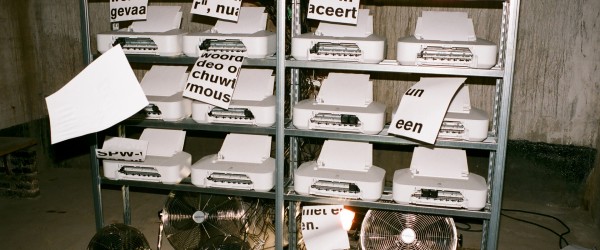 Residentie & publieke presentatie - Lionel Maes (24 maart)
Lionel Maes is gedurende een maand in residentie in iMAL, voor de ontwikkeling van zijn project 'Homeopape'. 'Homeopape' is een installatie die reageert op de newsfeed van het persagentschap Belga. Een eerste versie werd gepresenteerd tijdens Nuit Blanche in Brussel in oktober 2015.
Op 24 maart wordt het publiek uitgenodigd om deze nieuwe versie van 'Homeopape' te komen ontdekken. Op 31 maart zal Lionel wat meer uitleg geven over het project op de 13de editie van onze DorkbotBRU.
About Lionel Maes
Lionel Maes is an artist, graphic designer and software developper. He is the cofounder of the graphic design studio La Villa Hermosa. The subject of Internet newsfeeds is recurrent in his work, both personnal and with La Villa Hermosa. He teaches in the "code writing" and "digital images" classes at the Brussels art schools ERG (École de Recherche Graphique, Brussels) and Le 75 (École Supérieure des Arts de l'Image le 75).
Praktische Info
Public presentation on March 24th
More info soon!
Een archief : 1999-2010-2019
Deze pagina is een archief van de iMAL website zoals die tussen 2010 en 2019 bestond. Alle activiteiten en projecten die sinds het begin in 1999 door iMAL georganiseerd zijn zijn hier gearchiveerd.
Het meest recente nieuws en activiteiten kan je terug vinden op onze nieuwe website: imal.org