Welcome to the Future!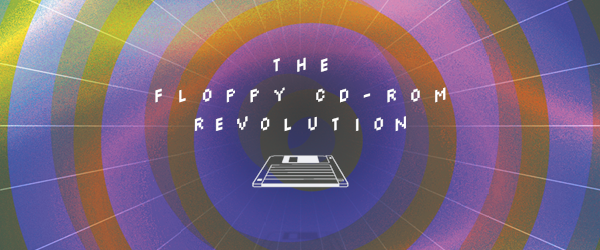 Documenting Contemporary Art
The third theme explored by Welcome to the Future! is: Documenting Contemporary Art
CD-ROM, with its 650MB of data exploited by multimedia PCs, was an ideal medium to document, in innovative ways, contemporary art practices: visual art, dance, performances, installations or new media art. Interactive navigation in large hypermedia database of texts, sounds, images and videos could describe artworks and their creation process in ways impossible before. Computer simulation, reconstruction, powerful search and rich hypertext functionalities added new tools for a better analysis and immersion. This significant CD-ROM production effort of the 90s barely had any equivalent later on the Internet.
The collection
Poetry in Motion
Ron Mann
Voyager, 1992 (US)
cd-rom Mac
Poetry in Motion, featuring performances by 24 of the most exciting poets (e.g. Bukowsky, Ginsberg, Cage), is a breakthrough entertainment for those who revere the energy of the spoken word but are dissatisfied with the single dimension of the written page. It is an exuberant celebration that makes many of the best US contemporary poets accessible to a popular audience.
The innovant integration on the same screen of the video of the performance and the performed (or published) text brings a new experience where the text and the time-based media are interdependant and controlled by each other. The user can be passive or active through different interactions, e.g. by directly accessing the video fragments of any textual sentence and repeat it at will for one's enjoyment of the performed poetry.
"When Ron Mann's superb film of contemporary poets in action, Poetry in Motion, came to CD-ROM, it created a whole new genre: the dramatic pairing of written text and video performance. Here was a new way to experience poetry: viewers could read a poem, watch it being performed by the author, or just sit back and let the words wash over them."
Source: c3.hu/
With performances and interviews of Gary Snyder, Ed Sanders, William Burroughs, Diane DiPrima, Allen Ginsberg, Ted Berrigan, Kenward Elmslie, Charles Bukowsky, John Cage, Robert Creeley, John Giorno, Michael Ondaatje, Anne Waldman and Tom Waits.
Actualizing the Virtual
Jean-Louis Boissier, Revue Vituelle
Centre Georges Pompidou, 1996 (FR)
CD-ROM Mac/PC (EN/FR)
Designed by the Revue virtuelle as a proceedings of the conferences and documentation of the exhibitions which happened at Centre Pompidou (Musée national d'art moderne) during the years 1992 to 1996, this CD-ROM realized with the collaboration of the University of Paris 8 is both a work of reference and an instrument of documentation and intellectual enquiry about new technologies and contemporary art.
It proposes 25 lectures, 155 interactive videos, 80 excerpts of discussions, an index, a glossary and biographies. It represents an extensive survey of the various usages, theoretical and aesthetic implications and artistic possibilities of the technologies of virtuality (computer-generated images,virtual reality, hypermedia and networks). It is both a support for the artworks, a museographic object as well as a catalogue.
As with other CD-ROMs produced under the direction of Jean-Louis Boissier, its design is innovant, matching the nature of the exhibited artworks using new technologies. The user interface is original: smart, hardly visible, without the usual control and navigation icons. The user interacts on the displayed media by rolling over, dragging, clicking to trigger the unfolding of other layers of information.
The 3rd biennale of Lyon
Jean-Louis Boissier, Univ.Paris 8
RMN, 1995 (FR)
CD-ROM Mac/PC (EN/FR)
The CD-ROM of the Lyon contemporary art Biennale of 1995 proposes the works of 63 artists with interactive video interviews, photos, texts and audiovisual documents. The CD-ROM is an experimental new media work matching the nature of the exhibited artworks using new technologies.
As with other CD-ROMs produced under the direction of Jean-Louis Boissier, its design is innovant, matching the nature of the exhibited artworks using new technologies. The user interface is original: smart, hardly visible, without the usual control and navigation icons. The user interacts on the displayed media by rolling over, dragging, clicking to trigger the unfolding of other layers of information.
View it online on ResurrectionLab, iMAL
Muntadas: Media, Architecture, Installations
Antonio Muntadas (& Anne-Marie Duguet)
Anarchive #1, Centre Georges Pompidou, 1999 (FR)
CD-ROM Mac/PC (EN/FR/SP)
This CD-ROM is Anarchive #1, the first of the Anarchive collection initiated by Anne-Marie Duguet, a series of interactive multi-media projects designed to explore an artist's overall oeuvre via diverse archival material. Beyond a mode of preservation, beyond producing important databases about a whole oeuvre, the project aims at stimulating various artists to develop new works through the use of digital techniques.
Muntadas Media Architecture Installations project is an Interom that Muntadas defines as a format combining a CD-ROM and an exit on Internet It is part of a series of works that investigates contemporary social spaces through architecture and media archetypes.
An imaginary space. An hybrid space composed by different sorts of functions and "values" based on concepts, displacements, projects and process, all related to a series of Muntadas's works "Media Architecture Installations" This project tries to make connections between the works traveling through their physical space and their discourse.
This CD-ROM user interface is based on an imaginary space that superimposes four distinct levels : observatory, auditorium, Iibrary, and airport.
This CD-ROM is produced in three languages: English, French and Spanish.
More on anarchive.net/
Improvisation Technologies
William Forsythe
ZKM (digital arts edition), 1999 (DE)
CD-ROM Mac/PC
From 1994 to 1996, Volker Kuchelmeister and Chris Ziegler collaborated with american choreographer William Forsythe to produce an interactive application to visualise and explain Forsythe's improvisation techniques to a wider audience.
The work was subsequently released as an interactive CD-ROM In 1999. Improvisational Technologies. A Tool for the Analytical Dance Eye features over a hundred video lectures where video, audio, animation and CGI are used to illustrate the choreographer's improvisation techniques and theoretical principles. This interactive didactic application was developed with a uniquely clear structure, reduced design and simple navigation.
La Musique Électroacoustique
Olivier Koechlin
Ina-GRM, Radio France, Hyptique, 2000 (FR)
CD-ROM Mac/PC
This CD-ROM is both a pedagogical and audio creation tool for discovering electro-acoustic music. It contains historical landmarks with audio documents concerning the figureheads of electro-acoustic music. It also provides a series of tools to analyze and understand how a series of filters and effects can modify the sound.
Dziga'Rom
Peter Missotten, Wies Hermans
Filmfabriek en Dziga vzw, 1998 (BE)
CD-ROM Mac (NL/EN)
A CD-ROM on contemporary media art in Flanders.
Proposing multimedia porftolios of about 50 artists, the interface design is original and innovant and was awarded. Bilingual EN/NL.
It is one of the very few CD-ROMs not developed in Macromedia Director, but with mTropolis originally from mFactory, an authoring software which was ended by Quark Inc. in 1998...
Mémoires Vives, n° 1
Compilations on various artists
Drac, Métafort, 1998 (FR)
CD-ROM Mac/PC
A compilation of visual artists works from France (and Belgium).
Artists: Laurent Chambert, Franck Scurti, Cyrille Martin, François Curlet, Gilles Sivilotto, Philippe Durand, Xavier Veilhan, Ann Véronica Janssens, Aude Du Pasquier Grail, Hughes Reip, Florence Paradeis, Joé Pillot, Pierre Gauthier, Anne Brégeaut, Régis Pinault, Christophe Martin, Michel Blazy, Koen Theys, Didier Marcel, Marie Legros, Jacques Julien, Philippe Cam, Lucie de Boutiny, Brigitte Ziegler.
Camps de Réfugiés
John Vinck, Yves Bernard
Apple France, 1994 (Belgium)
CD-ROM Mac
This CD-ROM (in French) was one of the very first hypermedia essay in photojournalism built around 300 pictures by photographer John Vink from Magnum. It proposes a rich multimedia content with audio commments by the author and members of Médecins Sans Frontières and Handicap International as well as video interviews.
The interface allows to explore the whole collection of pictures from the same screen thanks to a system of photo rings and hyperlinks.
Camps de Réfugiés was the first CD-ROM designed, developed and produced by Magic Media, the new media studio Yves Bernard founded in Brussels beginning of the 90's. Started in 1990, it was first presented at Milia in Cannes in 1994 and published by Apple France in September 1994 with the support of the Centre National of Photography, Paris.
View it online on ResurrectionLab, iMAL
L'autre Moitié de l'Europe
V.Dabin, Marc Sanchez (& Yves Bernard)
RMN, Jeu de Paume, Magic Media, 2000 (FR)
CD-ROM Mac/PC
This CD-ROM is the catalog of the exhibition L'Autre Moitié de l'Europe, presented by the National Gallery Jeu de Paume in Paris in 2000.
The CD-ROM presents works of more than 40 artists from 12 Eastern and Central European countries. It is an interactive multi-faceted documentary demonstrating the creativity and expressive power of these contemporary creators, an attempt to reveal this art scene while showing the similarity - and difference - of these artists who are no more from Eastern Europe but from the Eastern side of Europe.
Through 400 works illustrated with 900 photographs, 67 videos, many texts of artists, critics and documentary items, the user elaborates his/her multiple scenarios to discover and understand this fascinating contemporary art scene too often ignored: the interactive apporach varies from pleasures of discovery and exploration to a more rigorous documentation.
The navigation is easy and intuitive, providing an infinite variety of paths and consulting scenarios among a large set of audiovisual documents. Interactive simulations and 3D reconstructions are provided for some of the more complex works as well as an interactive "document table" for the user to compare his/her selection of pictures.
More on magic.be
Marie-Jo Lafontaine, installations videos 1979-1999
Marc Sanchez, Yves Bernard, Isa Debry
RMN, Jeu de Paume, 1999 (FR)
CD-ROM Mac/PC (EN/FR)
The French artist Marie-Jo Lafontaine has documented her installations and videos in the form of a CD-ROM. The disc is structured into video installations, topics, interviews, chronology and a list of her exhibition shows.
The interactive network of this CD-ROM, composed of images, film stills, video sequences, talks, texts and music, is the best format to document the multimedia aspects and the inter-contextuality of the artist's work.
Source: Harald Kraemer in "Fragments and Figments of Knowledge: the Documentation of Contemporary Art"
Machines à Écrire
Antoine Denize
Gallimard, 1999 (FR)
CD-ROM Mac/PC
Oulipo, littérature combinatoire, littérature factorielle ... Le CD-ROM Machines à écrire d'Antoine Denize propulse brillamment, glorieusement, sur le devant de la scène l'écriture oulipienne et prouve, si besoin était, combien elle peut être ludique et jubilatoire. Cette évolution semblait inévitable tant le lien entre l'informatique et elle est évident. Les machines, que Queneau appelait de ses voeux, sont aujourd'hui dans notre quotidien et, par le développement de produits hypermédia sur CD-ROM ou sur Internet, ont construit une acculturation d'un public plus large.
[...]
La grande réussite de Machines à écrire réside d'une part dans le travail de création hypermédia d'Antoine Denize, qui a sur "mettre en scène" les processus d'écriture oulipiens et, d'autre part, dans le parti pris de jeu et de participation du spectateur.
Source : Annick Bureaud in olats.org
The Complete Maus
Art Spiegelman
Voyager, 1995, (US)
CD-ROM mac
The Complete Maus was an excellent and moving CD-ROM. It combines both books of Maus, two hours of the original audio interview between Art and Vladek Spiegelman (which were the basis for Maus, audio and video commentary by Art Spiegelman on the making of Maus, as well as, hundreds of sketches and family photos.
[..]
Educationally the CD-ROM offers much more than just reading the two books of Maus. A student can explore other facets of the work, from listening to excerpts of the original audio interviews between Art and his father to reading and viewing sketches that illustrate Art's creative process.
Source: Sharon Myers in hypermedia.educ.psu.edu
Outline
Peter Downsbrough
Centre Nat.Estampe et Art Imprimé, 1999 (FR)
CD-ROM Mac
Outline is a virtual retrospective of the work of the American artist based in Brussels Peter Downsbrough. In a minimalist three-dimensional space itself conceived as a work, the user finds lines, volumes and typographic signs all characteristic of the artist's installation, photographic and video works. The user moves in this simulated space by clicking on words and a chronological timeline allows him to access the various works presented. The title of the CD-ROM recalls both the frequent use of the line in the works of Downsbrough and wireframe aspect of the interface elements.
Yellows 2.0
Akira Gomi
Digitalogue, 1995 (JP)
CD-ROM Mac/PC
YELLOWS 2.0 is a CD-ROM containing photographic works of Japanese artist Akira Gomi. It was published by Digitalogue, a new media publishing company directed by Enami Naomi who published the Reactive Books of John Maeda and many other art CD-ROMs.
Gomi's photographic work is an attempt to document body types and beauty of women from around the world. Yellow 2.0, consists of a collection photographs showing 'real' young Japanese women dressed and undressed rather than professional models. The artist used the same exact protocol and camera angle each time to produce neutral picture series that reminds the style of anthropological and criminological photography. This feeling is intensified by the possibility given to the user to select images based on body measurements or age of the models.
The Body and the Object
Ann Hamilton, James Towning
Wexner Center for the Arts, 1996 (US)
CD-ROM Mac/PC
This CD-ROM was included in the exhibition catalog created on the occasion of a retrospective exhibition of Ann Hamilton's work at the Wexner Center for the arts in Ohio State University. The user is able to navigate through layers of moving images and sounds documenting ten different works of the artist. The virtual space gives the viewer an experience of the complex and ephemeral immersive environment emblematic of the Ann Hamilton's work.
Anna Oppermann Embraces
Carmen Wedemeyer
Stroemfeld/Edition Lebeer Hossmann, 1998 (DE)
CD-ROM Mac/PC (EN/DE)
The late Anna Oppermann (1940-1993), participant of the documenta 6 and 8 and of the Venice (1980) and Sydney (1984) biennials invented an artistic practice of ever re-representing objects recursively: depicting depicted pictures. Her Ensembles vary in size, from a few to tens of thousands of objects. Art critics and historians found varying metaphors for them as mirror cabinets or jungles.
In 1998, the University of Luneburg published a CD-ROM reconstruction by Carmen Wedemeyer, with related book of essays and instructions, about the Embraces Ensemble, first begun in 1977 and installed in 1990 at the Sprengel Museumin Hannover.
Hypermedia is the best tool and process to represent not only Oppermann's work but much artifactual knowledge as a compelling digital experience.
The CD-ROM was developed as a complex website (in html) linking a large database of texts and pictures and some film excerpts. It triggered the development of HyperImage, a software system to document this kind of artwork and generalize it to become an everyday medium for image scientists (hyperimage.eu).
An archive : 1999-2010-2019
This page is an archive of the iMAL website that operated between 2010 and 2019. It compiles activities and projects made since 1999.
For our most recent news and activities, please check our new website at https://imal.org