Ellentriek meets Code, Arts & Crafts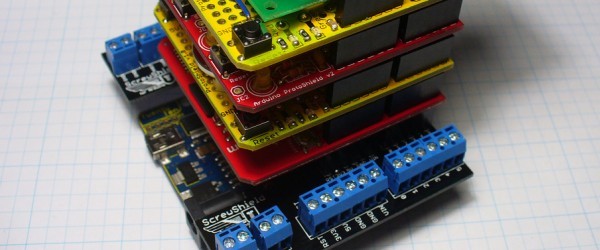 Shielded: extend your Arduino
Met Arduino kun je heel wat sensor data verzamelen, van gassen ruiken tot licht en temperatuur meten en nog veel meer. Maar hoe sla je bijvoorbeeld die data op? Hoe activeer je andere machines of zend je bits en bytes naar het web zonder het gebruik van een computer?
Om motors te doen draaien, een connectie te maken met een netwerk, gps-punten te loggen, een autonome computerloze interactieve geluidsinstallatie te maken heb je een microcontroller en nog heel wat andere chips nodig. Meestal komen die in de vorm van een schildje dat je op je Arduino schuift. Tijdens dit Code, Arts and Crafts meets Ellentriek weekend bekijken we een aantal van deze "shields" in detail. We analyzeren ze en bekijken de mogelijkheden om ze zelf ineen te steken.
Met extra breinpower van Mr Stock uit Rotterdam & Stéphane Noel!
- Zoals gewoonlijk is deze sessie open voor eigen projecten van kunstenaar
- Graag voorkennis van Arduino
De workshop is vol!
Praktische Info
Zaterdag and Zongdag,
12:00-18:00
Max. 15 deelnemers
Prijs
20€, inclusief broodjeslunch en drank (2 dagen)
Ter plaats te betalen
De workshop is vol!
Voor meer informatie:
wendy @ constantvzw . org
Een archief : 1999-2010-2019
Deze pagina is een archief van de iMAL website zoals die tussen 2010 en 2019 bestond. Alle activiteiten en projecten die sinds het begin in 1999 door iMAL georganiseerd zijn zijn hier gearchiveerd.
Het meest recente nieuws en activiteiten kan je terug vinden op onze nieuwe website: imal.org