warning: unlink(/tmp/19198.XML_API___MODSEC_PREVIEW_VENDOR__.0a9bd528.tmp.cache): Operation not permitted in /home2/imalorg/legacy.imal.org/drupal/sites/all/modules/flickrapi/phpFlickr/phpFlickr.php on line 115.
Open Core
vrijdag, 2 april 2010 | 20:30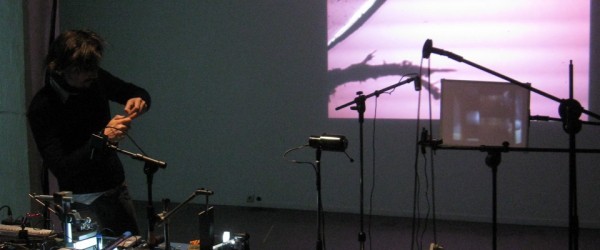 Performance door Julien Maire
Julien Maire (FR - D) herbekijkt de 16e eeuwse publieke anatomische dissecties door middel van een performance, tijdens dewelke hij visuele machines zoals videocamera's en webcams zal ontleden. We zullen hem assisteren bij het verlengen van kabels, de verspreiding van het licht, het trapsgewijs verbreken van verbindingen. De organen van de machines worden uitgewisseld, getransplanteerd naar geleidelijk opgebouwde prototypes van nieuwe hybride instrumenten.
About Julien Maire
"Julien Maire , 1969 (F-DE) lives and works in Berlin. Studied Fine Arts in Metz (F). Artist and performing artist, his work deconstructs and re-invents the technology of audio-visual media. He renews obsolete cinematic techniques or develops alternatives interface to produce moving images. His research confront immobility and movement, reality and fiction and interrogate the notion of time and memory in the film image. Honorary mention in Ars Electronica 07, Award of New Media Art from the Fondation Liedts-Meesen in 2008. His work was nominated for the "World Technology Award" in New York in 2009."
[from Transmediale 2010]
Een archief : 1999-2010-2019
Deze pagina is een archief van de iMAL website zoals die tussen 2010 en 2019 bestond. Alle activiteiten en projecten die sinds het begin in 1999 door iMAL georganiseerd zijn zijn hier gearchiveerd.
Het meest recente nieuws en activiteiten kan je terug vinden op onze nieuwe website: imal.org