Connecting Cities Urban Media Lab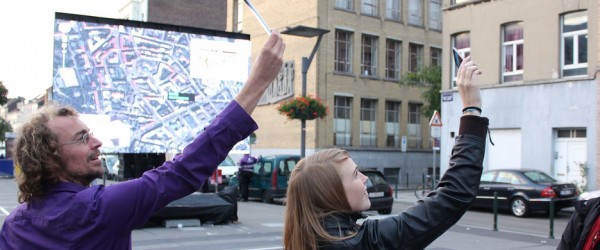 Workshop
This workshop is open to any individuals or team composed of artists, designers, developers or creative people (max 3 persons per team). 5 to 7 projects (for about 12 participants) will be selected among the propositions submitted to the open call. iMAL and the workshop leaders may suggest groupings of participants on some projects.
The workshop will be hands-on and geared towards producing working prototypes of projects ready to be shown in the city at the end. Participants are expected to be autonomous enough with development and/or electronics if any of those are involved in their project.
Your workshop leaders, Ali Momeni & Luciano Pinna will share their knowledge and experience with the participants. Luciano will in particular help with augmented reality projects and introduce participants to the Wizart AR CMS, an AR framework he developed with Sander Veenhof.
Finally, Veronika Pauser & Peter Holzkorn from Ars Electronica Futurelab will present their LinzerSchnitte project and guide interested participants in their first step with this FM-controllable module.
If you want to participate send your project proposal before the deadline!
Participants are expected to attend the symposium on June 13 and 14, the workshop between June 15 and 20, and present their results on June 20 and 21.
Workshop leaders
Ali Momeni
Ali Momeni is into dynamic systems and moving targets; he works with kinetics, electronics, software, sound, light, people, plants and animals. His creative output ranges from sculptures and installations, to urban interventions and music theater performance.

Momeni was born in Isfahan, Iran and emigrated to the United States at the age of twelve. He completed his doctoral degree in music composition, improvisation and performance with computers from the Center for New Music and Audio Technologies in UC Berkeley. He spent three years in Paris where he collaborated with performers and researchers from La Kitchen, IRCAM, Sony CSL andCIRM. Between 2007 and 2011, Momeni was an assistant professor in the Department of Art at the University of Minnesota in Minneapolis, where he directed the Spark Festival of Electronic Music and Art, and founded the urban projection collective called the MAW. Momeni currently teaches in the School of Art at Carnegie Mellon University and oversees CMU ArtFab.
Luciano Pinna


Luciano Pinna is conceptual artist and augmented reality designer. Graduated from the Gerrit Rietveld academy of art and the applied science faculty of the University of Twente he walks on parallel paths. Combining his fascination for tech and art he develops new experiences with Augmented Reality. Examples are: the first AR dress with fashion designer Marga Weimans, the first AR schoolyard for children at the Steve Jobs schools, the first AR CMS for Google Glass. As conceptual artist he researches that which does not exist. His art work was exhibited in Amsterdam, Berlin, London & New York.
augmentnl.com & lucianopinna.com
Ars Electronica Futurelab
The Ars Electronica Futurelab is a laboratory / atelier that focusses on the nexus of art, technology and society. We consider our works as sketches of possible future scenarios in art-based, experimental forms. In this way, we are aiming at developing contributions through methods and strategies of applied science, the results of which reveal new knowledge and experiences of societal relevance in art and science.
Resources
LinzerSchnitte


LinzerSchnitte is a platform for low-cost, long-range wireless DIY electronics projects. It consists of a low-power microcontroller board with an integrated FM broadcast receiver and a single output pin. With an FM transmitter and special server software, hundreds of LinzerSchnitte devices can be triggered in real-time across large distances, without the need for internet infrastructure.
The LinzerSchnitte was developed as part of the 2012 Linzer Klangwolke event, where it was used to control the "Klangwolke ABC", a participatory project that allowed over 2000 citizens to build an illuminable cardboard letter and bring it to the event; via the LinzerSchnitte, the letters were then lit up in synchrony from the central transmitter and became part of a large-scale audiovisual spectacle. We are now working towards making the hardware and software behind it open-source and accessible.
More info on aec.at/linzerschnitte
Wizart AR CMS
The Wizart AR CMS was developed as a solution with which artists, designers and developers could quickly create geo-based AR. It consists of an intuitive web-based CMS and a Junaio channel with which the AR can be experienced. Users can upload images, 3D models, audio and video to be displaced somewhere in augmented space. These can be enhanced by adding all kinds of animations, realtime shadow and directions. It also can be packaged as a stand-alone app for iPhone, iPad, Android and Google Glass. It is used in the Dutch education system, the artist AR platform Zonietdantoch and several mobile apps.
FabLab.iMAL


Participants with experience in using lasercutter and 3d printers will have access to our Fablab. The Fablab and iMAL can also provide limited quantities of standard electronic components and other HW support on a per-project basis.
Financial Support
iMAL will support each participant not residing in Brussels with a budget of maximum 600€ to help covering travels & accommodation costs and each participant will receive a 50€/day per diem (for a total of max 10 days).
Public Symposium
13 June, 10:00-18:00
14 June, 10:00-14:30
Workshop / Production Lab
15-20 June

Public Presentation
Fri 20 June, 18:00 - 22:00
Sat 21 June, 13:00 - 18:00
Location
The symposium and workshop take place at iMAL
30, Quai des Charbonnages/Koolmijnenkaai
1080 Brussels
BELGIUM
The public presentation will take place in the public space in the neighbourhood of iMAL (more info later)
Een archief : 1999-2010-2019
Deze pagina is een archief van de iMAL website zoals die tussen 2010 en 2019 bestond. Alle activiteiten en projecten die sinds het begin in 1999 door iMAL georganiseerd zijn zijn hier gearchiveerd.
Het meest recente nieuws en activiteiten kan je terug vinden op onze nieuwe website: imal.org