Kinetic Pavilion
17 January - 9 February 2012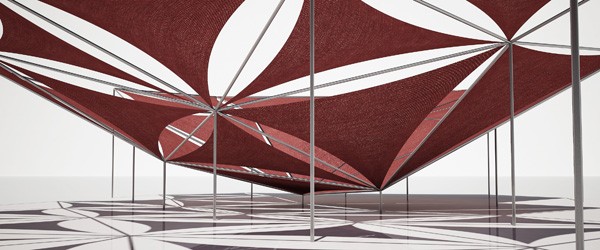 Interactive architecture by Elise Elsacker and Yannick Bontinckx
Smart architecture is the future. This is what demonstrate Elise Elsacker and Yannick Bontinckx with their Kinetic Pavilion, a structure that can react to wheater conditions, human movements, social media and certainly much more.
In a few month time, these two students of Sint-Lucas Architectuur have developed an open source scall model made of 46 mdf sheets 60x30cm, 28 servomotors, 160 metal sticks, 28 bolts and screws, 1 Arduino Duemilanove, 1 Arduino Mega, 1 recycled computer power supply, 75g wood glue, many cables,...
The final model interacts with Ecotect (environmental software), Processing, iPad/iPhone, webcams, Kinect,... But as it is an open source project and that they use open udp protocol, it is possible to join the project and develop other applications using any other software (eg. Autocad, Flash Actionscript, Excel, VVVV, Max/msp, Processing, Puredata, openFrameworks, even Photoshop and images, … ).
During its exhibition at iMAL, you will have the opportunity to test and play with the Kinetic Pavilion, exploring its potential for the future.
Practical Info
Open Wednesday-Friday, 12:30-18:00
+ Wedn 18.01, 20:00-23:00 during Dorkbot BRU!
+ on appointment
Free entrance
Location: iMAL
Photos et vidéo par Elise Elsacker et Yannick Bontinckx.
An archive : 1999-2010-2019
This page is an archive of the iMAL website that operated between 2010 and 2019. It compiles activities and projects made since 1999.
For our most recent news and activities, please check our new website at https://imal.org