Code, Arts & Crafts vs Ellentriek
6 November - 7 November 2010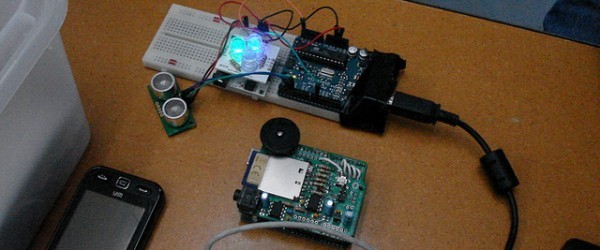 (a little step) Beyond prototyping
Code, Arts & Crafts (iMAL) meets Ellentriek (Constant & Pianofabriek) to propose an advanced level workshop on building Arduino-like constructions. A little step towards autonomy and sustainable prototypes.
When building a physical computing construction using a microcontroller, you are often confronted with breadboards, loose wires and headerpins. Furthermore, an Arduino board itself is quite big. In this 'Ellentriek vs. Code, Arts & Crafts' session, we want to try to go a step further using our expertise and 'the little grey cells'.

While building and constructing we will try to solve following questions:
How to 'miniaturise' an Arduino microcontroller?
How to program Arduino pro mini's, freeduino nano's, Ardweenies, …?
Which microcontroller suits you best?
How to build your own microcontroller?
How to translate your breadboard trial version to a pcb
How to make pcb's with a laserprinter?
This 2-days workshop will be hold under the leading of Fabrice (CA&C) and Marc (Ellentriek).
On Saturday evening (7pm), Dirk Oosterbosch will give a presentation on Fritzing, a plateform and software for the documentation and sharing of protypes, and the making of pcb layout for professional manufacturing.
If you have specific questions/needs with regard to your project, please let us know so we can prepare better. Contact Marie-Laure.
In parallel, the Processing workshop hold by Yannick (CA&C) will take place on Saturday afternoon, from 2-6pm! To participate, please fill in the registration form! (only for Processing)

Practical Info
Workshop on Saturday and Sunday,
14:00-18:00
Presentation Fritzing: Saturday, 19:00
This workshop is free & multilingual (FR/NL/EN)
Location: iMAL
An archive : 1999-2010-2019
This page is an archive of the iMAL website that operated between 2010 and 2019. It compiles activities and projects made since 1999.
For our most recent news and activities, please check our new website at https://imal.org