Iterations #2: I don't know where this is going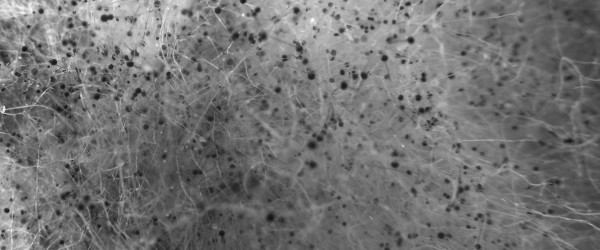 A collective installation by Constant & esc
Contrary to on-line services such as Open Street Map or Google Maps, the playful spatial earth itinerary simulator proposed in this installation points at the stormy weathers, the obstacles, the troubles and uncertainties you might encounter on a journey. Bodies and objects move through the space of I don't know where this is going. They curve, bend, avoid, cut across, crossing lines of separation and connecting the dots from point of departure to destination.
Departing, taking off, leaving, going, fleeing, escaping … where from and where to? The war in Syria, its disastrous effects on people's lives and the streams of refugees it created and still creates destabilises the concept/idea of travel. When fleeing home seems unavoidable, it doesn't mean your destination is immediately clear. Are you welcome? For thousands of people the question where this is all leading to is a crucial one.

I don't know where this is going is part of Iterations, a project investigating the future of collaborative artistic practices in a technologically networked context, initiated by Constant and esc medien labor (Graz, Austria).
I don't know where this is going is the second edition of Iterations and presents a collective installation by Pascale Barret (BE/FR), Miriam Raggam (AT), Claire Williams (BE/FR), François Zajega (BE), Julien Deswaef (USA/BE) and Annie Abrahams (NL/FR).
Practical Info
Opening
Thursday June 23 2016
18:30-22:00

Dates
June 24 - July 29 2016
Tue - Fri, 13:00 - 18:00
Free entrance!
Group visits
+32-2-410 30 93
info@imal.org
Location: iMAL
Quai des Charbonnages 30 Koolmijnenkaai
1080 Brussels
Miriam Raggam, CC BY-NC-SA & Constant
Credits
Iterations is an initiative of Constant, association for arts and media, and esc, medien kunst labor, Graz, Austria.
Co-ordinated by Peter Westenberg (Constant) and Reni Hofmüller (esc).
In collaboration with iMAL,center for digital cultures and technology, Brussels
With the support of: 
Vlaamse Overheid, Vlaamse Gemeenschapscommissie, Fédération Wallonie-Bruxelles Arts Numériques, Cultural Department of the City of Graz, Cultural Department of Styria, The Arts and Culture Division of the Federal Chancellery of Austria


An archive : 1999-2010-2019
This page is an archive of the iMAL website that operated between 2010 and 2019. It compiles activities and projects made since 1999.
For our most recent news and activities, please check our new website at https://imal.org