Etienne Cliquet: Terrain d'Envol
31 July - 9 September 2013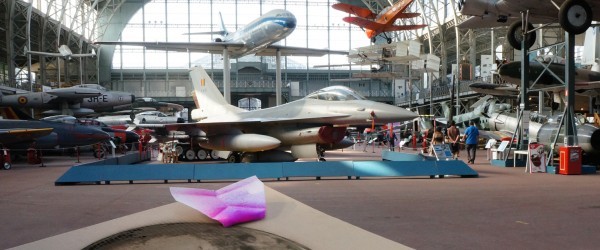 Research & Production residency
Etienne Cliquet a travaillé en résidence au FabLab.iMAL durant l'été 2013 afin de préparer son expositon Terrain d'Envol (aéroport improvisé) à iMAL du 19 septembre au 20 octobre 2013.
Dans le cadre de ses recherches entre origami, art et technologies, il explore plus particulièrement pendant sa résidence des principes d'avion en papier et d'objets volants. Une grande partie de ces avions seront produits à l'aide des moyens offerts par les outils de fabrication numérique du FabLab. Il présentera l'aboutissement de ses recherches dans l'espace d'iMAL au terme de cette résidence, sa documentation et son processus d'élaboration dans un esprit open-source et DIY.
La démarche d'Etienne Cliquet est exemplaire du potentiel créatif d'une culture née de l'Internet. Mêlant les moyens les plus divers et déconcertants (pliages et outils de pointe), sa démarche se nourrit de différentes pratiques culturelles dans un monde en réseau.
About Etienne Cliquet
Etienne Cliquet vit et travaille à Toulouse. Son travail est visible à la fois sur Internet, dans l'espace tangible et exposé internationalement. Co-initiateur et animateur du collectif en ligne Téléférique de 1999 à 2004, il développe depuis des recherches sur le pliage en relation avec l'informatique et les réseaux.
An archive : 1999-2010-2019
This page is an archive of the iMAL website that operated between 2010 and 2019. It compiles activities and projects made since 1999.
For our most recent news and activities, please check our new website at https://imal.org