Official opening of FabLab.iMAL
14 September - 15 September 2012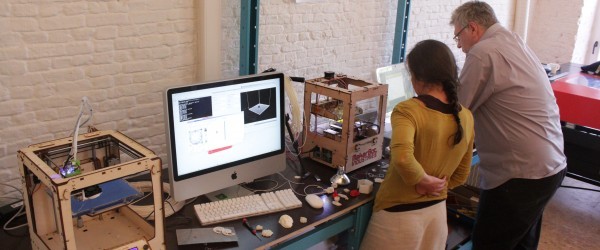 Inauguration of the first Brussels-based creative digital Fabrication Laboratory
iMAL inaugurates its FabLab, the first digital manufacturing workshop in the Brussels-Capital Region to provide services to creators (artists, designers, graphic designers, developers, tinkerers, engineers, imaginative citizens, students, apprentices...). FabLab.iMAL is an instrument of collective innovation, awareness and education in new technologies and digital manufacturing which allows more open, collaborative and responsible process of creation, production and consumption of manufactured objects, either functional, decorative or artistic, either unique or produced in small series. FabLab.iMAL is at the crossroads of practices now recognised to have a high potential of creativity, as are other structures like LivingLabs, Tech Shops, MakerLabs, HackerSpaces, ... that are arising from collaborative and open processes of the Internet, DIY, hybridisation between arts/sciences/technologies, and interdisciplinarity. FabLab.iMAL is a catalyst for social and entrepreneurial innovation, anticipating new forms of craft and production structures.
Digital manufacturing consists in the creation of a physical object in an entirely digital process by using machines controlled by computers. It allows the digital - often associated with the intangible and virtual - to return to the tangible, the material, the atom. For many creators, designers and artists tired of working in a completely dematerialised world, this reconciliation between the digital and physical worlds is welcome and opens up many possibilities.
By attracting youngsters with practical, innovative, multidisciplinary, fun and creative activities, FabLab.iMAL can also address the lack of interest among young people for science and technology career fields that threatens the development of creative industries
FabLab.iMAL is a tool to train of all kind of creators for manufacturing services offered by more and more companies (SMEs with CNC machines for cutting and milling metal, rapid prototyping service).
FabLab.iMAL reinforces the missions of iMAL, Center for Digital Cultures and Technology, created in Brussels in 2000 and internationally recognised. Beside the digital arts centre and iMAL's medialab, fablab.iMAL is a new unique advanced tool in the Brussels-Capital Region and in Belgium serving different creative communities and integrated to the activities of the whole centre (research and productions residencies, trainings and workshops, exhibitions, production and distribution, arts/sciences/technologies platform).
FabLab.iMAL follows the MIT fablab charter, is integrated with the network of european fablabs and collaborates with engineering schools fablabs such as the Erasmus Hogeschool Brussel one.
More on the revolution of digital fabrication and FabLab.iMAL project here.
Exhibited artworks
FabLab.iMAL is in start-up phase since February; works from the masterclass Generator.x 3.0: from bits to Atoms directed by Marius Watz as well as projects from several artists in residency and designers will be exhibited:
Cécile Babiole (FR) : DIAPO Lamp
Alix Welter (BE) : Redux Cubic Baskets (S, M, L, XL)
Lumisokea (Koenraad Ecker, Andrea Taeggi) & Legoman : "Selva" vinyl album sleeves
Julien Maire: various works
Partners
ABE - Agence Bruxelloise pour l'Entreprise
MAD - Brussels Mode and Design Center
Design September
Crearnet
Cyclo vzw
Practical Info
Inauguration: Friday 14 September: 15:00
With Christos Doulkeridis, Minister-President of the French-speaking brussels government (COCOF)
Open doors (Design September):
Friday 14 September: 18:00 - 21:00
Saturday 15 September: 11:00 - 18:00
Free entrance !
FabLab.iMAL will be open from October wednesday all day and thursday evenings
Membership and access conditions coming soon
Location: iMAL
34 Koolmijnenkaai - quai des Charbonnages
1080 Brussels, BE
Credits
FabLab.iMAL has been possible thanks to a start-up funding from Christos Doulkeridis, Secretary of State of the Brussels-Capital's Region and Minister-President of the Cocof, Fadila Laanan, Minister of Culture of the Wallonia-Brussels' Federation and Benoit Cerexhe, Minister of Economy and Research of the Brussels-Capital's Region.
An archive : 1999-2010-2019
This page is an archive of the iMAL website that operated between 2010 and 2019. It compiles activities and projects made since 1999.
For our most recent news and activities, please check our new website at https://imal.org