warning: unlink(/tmp/19198.XML_API___MODSEC_PREVIEW_VENDOR__.0a9bd528.tmp.cache): Operation not permitted in /home2/imalorg/legacy.imal.org/drupal/sites/all/modules/flickrapi/phpFlickr/phpFlickr.php on line 115.
Vision Nocturne: Cubix
22 November - 5 December 2012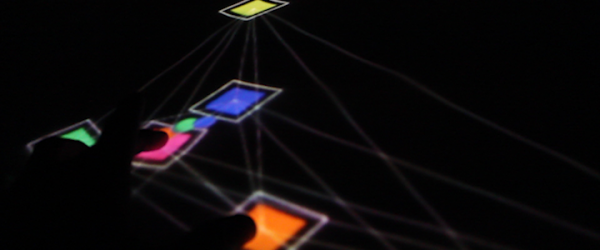 Vision Nocturne presents Cubix, an interactive multitouch installation, using the video mapping technology.
Cubix generates abstract aesthetics from a simple cube, both sensorial and immersive. It invites the public to discover its tactile, audio and visual dimension. Cubix explores new forms of graphic expressions through new technologies.
It consists in a cube of 27m3, shaped by a metalic structure and white translucide material, in which a multitouch table allows to make evolve projected animations on the cube.
An archive : 1999-2010-2019
This page is an archive of the iMAL website that operated between 2010 and 2019. It compiles activities and projects made since 1999.
For our most recent news and activities, please check our new website at https://imal.org