Mirror Match
30 september - 2 oktober 2011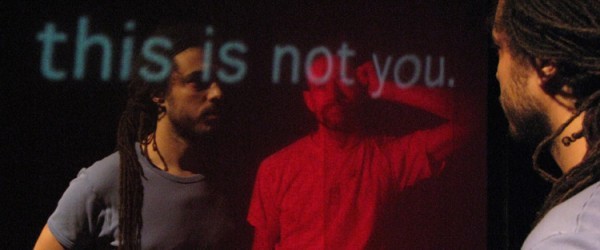 Een project van Yacine Sebti
Mirror Match is een performance
Mirror Match is een installatie
Mirror Match is een reflectie
Mirror Match is een ontmoeting
Mirror Match is een confrontatie
Mirror Match is enkel op afspraak
Mirror Match voert u mee
Mirror Match praat met u
Mirror Match luistert naar u
Mirror Match observeert u
Mirror Match beweegt u
Mirror Match plaatst u in een hokje
Het team van Mirror Match houdt van zwarte chocolade
Reserveer uw bezoek!
Mirror Match is een installatie voor een bezoeker per keer. De gemiddelde duur is 30 minuten.
Reserveer uw bezoek (van vrijdag 30/09 tot zondag 01/10, 15:00-21:00), bel op +32 484 93 35 61 (reservering start op maandag 26 september!). Aarzel niet om ons te laaten weten wat de taal van uw keuze is.
Praktische Info
Vrijdag 30/09 tot en met zondag 1/10, 15:00 - 21:00
Reserveren is verplicht (start op 26 september)!
+32 484 93 35 61
30 minuten per bezoeker/performance
Plaats: Tour & Taxis (Ecole du Cirque de Bruxelles)
Credits
Concept, Video, Software Development: Yacine Sebti
Interactive Script: Yacine Sebti, Mostafa El Hawari
Actors:
David Vossen (FR-EN-NL-IT), Cécile Roesch (FR-EN), Katrien Vanderbiest (NL-FR-EN), Céline Lenoir (FR), Soetkin Demey (NL-EN-DE)
Sound design: Charo Calvo
Animation: Marcio Ambrosio
Lightings: Yacine Sebti (with the kind support of Joelle Reyns)
Stage Directors: Greg Alvéolis, Stéfan Piat
Set Design: Nicolas Gasnier, Raphaël Ory
Support & Acknowledgments
Co-produced by iMAL (projet de recherche
Virage
research project)
Photo Credits: Greg Alveolis.
Vrijdag 30/09 tot en met zondag 1/10, 15:00 - 21:00
Reserveren is verplicht (start op 26 september)!
+32 484 93 35 61
30 minuten per bezoeker/performance
Plaats: Tour & Taxis (Ecole du Cirque de Bruxelles)