Mirror Match
30 September - 2 October 2011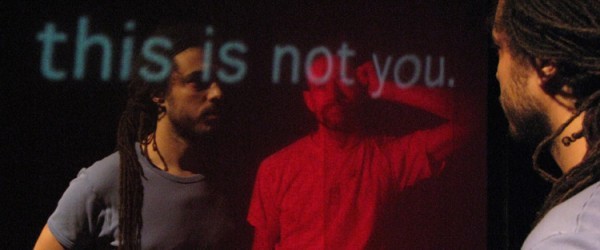 A project by Yacine Sebti
Mirror Match is a performance
Mirror Match is an installation
Mirror Match is a reflexion
Mirror Match is an encounter
Mirror Match is a confrontation
Mirror Match is by appointment
Mirror Match transports you
Mirror Match speaks to you
Mirror Match listens to you
Mirror Match is watching you
Mirror Match pushes you
Mirror Match puts you in a box
The Mirror Match team likes dark chocolate
Book your visit !
Mirror Match is an installation for one visitor at a time. The average duration is 30 minutes.
Book your visit (from Friday 30/09 to Sunday 01/10, 15:00-21:00) by calling +32 484 93 35 61 (Booking starts on Monday September 26). Please don't hesitate to tell what your language of choice is for the performance.
Practical Info
Friday 30/09 to Sunday 1/10, 15:00 - 21:00
Booking is mandatory (starts on Sept 26)!
+32 484 93 35 61
30 minutes per visitor/performance
Location: Tour & Taxis (Ecole du Cirque de Bruxelles, 11 rue Picard, 1080 Brussels)
Credits
Concept, Video, Software Development: Yacine Sebti
Interactive Script: Yacine Sebti, Mostafa El Hawari
Actors:
David Vossen (FR-EN-NL-IT), Cécile Roesch (FR-EN), Katrien Vanderbiest (NL-FR-EN), Céline Lenoir (FR), Soetkin Demey (NL-EN-DE)
Sound design: Charo Calvo
Animation: Marcio Ambrosio
Lightings: Yacine Sebti (with the kind support of Joelle Reyns)
Stage Directors: Greg Alvéolis, Stéfan Piat
Set Design: Nicolas Gasnier, Raphaël Ory
Support & Acknowledgments
Co-produced by iMAL (projet de recherche
Virage
research project)
Photo Credits: Greg Alveolis.
Practical Info
Friday 30/09 to Sunday 1/10, 15:00 - 21:00
Booking is mandatory (starts on Sept 26)!
+32 484 93 35 61
30 minutes per visitor/performance
Location: Tour & Taxis (Ecole du Cirque de Bruxelles, 11 rue Picard, 1080 Brussels)