CreativeFab 2018
27 November 2017 - 27 April 2018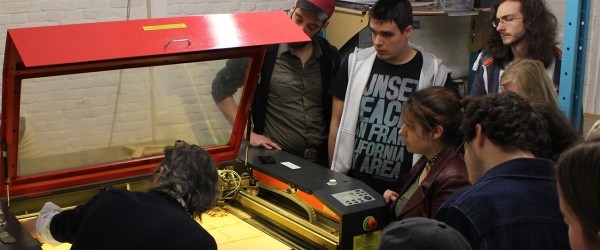 Éducation à la Fabrication Numérique pour Bruxelles
iMAL organise plusieurs workshops d'introduction à la fabrication numérique pour différentes hautes écoles artistiques bruxelloises francophones et néerlandophones.
"CreativeFab" est un atelier d'introduction à la fabrication et à l'usage des machines numériques. Ce workshop leur offre l'opportunité de réaliser et développer leurs projets personnels.
Quatre jours ou deux jours étalés sur deux semaines ont été planifié pour les écoles supérieures de Bruxelles: l'ESA le 75, l'ESA St-Luc Bruxelles, LUCA School of Arts, l'Académie de dessin et des arts visuels de Molenbeek et l'ERG (École de Recherche Graphique). Le programme a été élaboré avec les enseignants de chaque école en fonction des participants visés et de leur approche pédagogique.
Les workshops ont été animés par les artistes/animateurs du FabLab: Felix Luque et Julien Maire, ainsi que l'artiste Elias Heuninck. Ils ont permis aux participants de découvrir les possibilités immenses de la fabrication numérique avec les nouveaux processus de conception et production qu'elle implique, tant au niveau artistique, design que technique.
Résultats
Documentés par les étudiants, sur notre plateforme Wikimal.
Credits
Avec le soutien de Innoviris.

An archive : 1999-2010-2019
This page is an archive of the iMAL website that operated between 2010 and 2019. It compiles activities and projects made since 1999.
For our most recent news and activities, please check our new website at https://imal.org