«Relief» - Exhibition by Julien Maire
25 September - 26 October 2014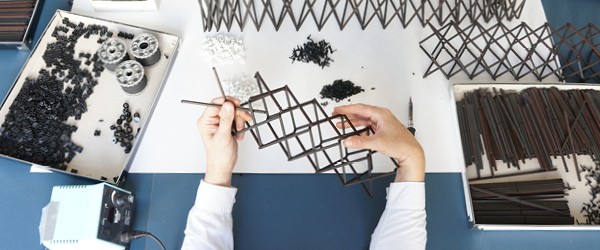 Stereolithographic projections & Expansion/Contraction sculptures
Media Archaeology is a new science. It's not studying the history of cinematograph and gramophone, but how our perception of the world is transformed through the camera lens and the speaker. The audiovisual is like a soundtrack, a visual tracking shot moving in parallel to us; pictures and sound are visual fictions that moved away from reality, but disrupt and influence our relation to reality.
In French, "3D cinema" was also called "relief cinema" (relief as in "relief map" or "bas-relief"). The term went out of style when we were forced to admit that "relief cinema" didn't exist. "Relief" evokes materiality, while "3D" is commonly understood as a mathematical and computational concept. Julien's stereolithographic projector is indeed a conceptual game around 3d cinema, this old myth recently arrived in theaters and tv consumer technologies. He proposes his 3d cinema which generates a unique quality of image with a real depth of field.
The projector 1.0 (titled "Man at Work") uses a 3d printed film designed by the artist and shows an endless animation of a man digging in the ground accumulating the earth on a heap: substracting and adding, as in new and old fabrication technologies.
Through expanding & contracting pieces, and stereolithographic projections, Julien Maire's installations indirectly address new technologies, media archaeology and manipulate fiction.
For more than 10 years, Julien Maire has mastered and used in unexpected ways advanced technologies such as CNC mills, laser cutters, precision optics, etc. Today, 3D printers are naturally also part of his toolbox.
For these two new pieces, Julien designed and built all original parts: his 3d printed film, the projector and sculpture mechanisms and components using the whole range of machines available at Fablab.iMAL, from Ultimaker and Mendel DIY printers to the laser-based Form1 3D printer for the film 3d frames.
About Julien Maire
Graduated from the Academy of Fine Arts Metz, Julien MAIRE is a French new media artist with impressive works such as Exploding Camera, Low Res Cinema, Demi-Pas.
Since the mid-1990s, he has worked between performance art, media installations and cinema to produce live performative works that are hybrids of genres and media, exploring the physicalities of the moving image.
His installations and performances have been featured widely and internationally at prestigious venues such as Ars Electronica, Digital Art Festival, European Media Art Festival, Film Festival Rotterdam, Sonar, Transmediale, ZKM, ICC (Japan), Empac (New-York),... Julien was the winner of the NTAA award (Update_2 biennial) in 2008 and was nominated for the World Technology Award in New York in 2009.
Julien was invited by iMAL in 2004, 2010 and 2012, and is now permanent resident, installing his workplace at FabLab.iMAL where he is one of the managers.
In the press
Practical Info
Opening: Thursday 25 September
18:30-22:00
Facebook event
Finissage: Sunday 26 October
20:00-22:30
Facebook event
Dates:
26 September - 26 October
Wed-Sun, 13:00-18:00
Free entrance!
Group visits
02 410 30 93
info@imal.org
Location: iMAL
30 quai des Charbonnages - Koolmijnenkaai
1080 Brussels
Pictures by Julien Maire & iMAL
Credits
Animation realised by Paul Jadoul of Studio l'Enclume.
This exhibition and their artworks are produced by iMAL in the context of our creation residency with the support of Fédération Wallonie-Bruxelles (Quinzaine Numérique), Agence Wallonie-Bruxelles Théâtre/Danse and FabLab.iMAL.

Opening: Thursday 25 September
18:30-22:00
Facebook event
Finissage: Sunday 26 October
20:00-22:30
Facebook event
Dates:
26 September - 26 October
Wed-Sun, 13:00-18:00
Free entrance!
Group visits
02 410 30 93
info@imal.org
Location: iMAL
30 quai des Charbonnages - Koolmijnenkaai
1080 Brussels