DorkbotBRU#7
woensdag, 23 februari 2011 | 19:30 - 22:30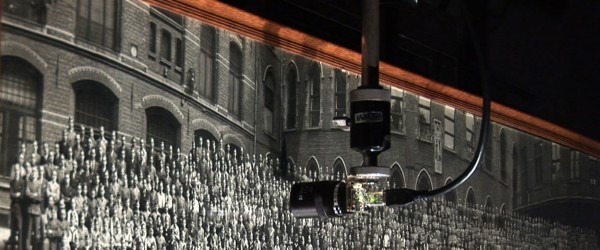 (in)visible hardware, custom-made electronics for artworks
In deze "geeky but arty" Dorkbot zullen we, los van de technische implementatie, de vraag behandelen over de uiting van het artistieke discours rond technologie. We zullen werken voorstellen waar hardware wel een zichtbaar, integraal deel is van het kunstwerk, maar niet het hoofdthema. Met Jasper Rigole, Gert Aertsen, Félix Luque en Jérôme Decock van het collectief LAb[au].
Programma:
Jasper Rigole and Gert Aertsen will present OUTNUMBERED, a brief history of imposture (2009), an installation that makes use of a computer-controlled camera. Its wandering on an old photographic document generates an aleatoric narrative using an extensive database of people who, in some way, are associated with imposture.
Félix Luque will talk about his digital alphanumeric display (8 giant size 1.6m sixteen-segment alphanumeric digits). Builded for "The dialogue", the 8 elements are parts of his installation Nihil ex Nihilo (2010), a Science fiction story about botnets, spam and a rebellious computer.
Jérôme Decock (LAb[au]) will conclude the evening with SwarmDots (2009), a generative artwork running on an 'art console' crafted by LAb[au] and presented as a scultpure.
This Dorkbot session will be streamed live on iMAL.tv
Praktische Info
Deuren: 20:00
Presentaties: 20:30-23:30
De presentaties zijn in het engels of frans afhankelijk van het publiek en de speakers
Vrije toegang
Live streaming op iMAL.tv
Teaser picture: Jasper Rigole
Photo credits: courtesy of Felix Luque, Jasper Rigole, LAb[au] and iMAL.
Credits
Met de steun van COCOF (Commission communautaire française de Bruxelles).
Een archief : 1999-2010-2019
Deze pagina is een archief van de iMAL website zoals die tussen 2010 en 2019 bestond. Alle activiteiten en projecten die sinds het begin in 1999 door iMAL georganiseerd zijn zijn hier gearchiveerd.
Het meest recente nieuws en activiteiten kan je terug vinden op onze nieuwe website: imal.org