#Additivism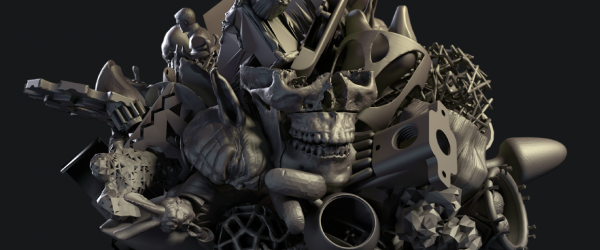 Lezing & masterclass met Daniel Rourke
In 2015 gaven Morehshin Allahyari en Daniel Rourke het 'The 3D Additivist Manifesto,' uit, een oproep om de 3D-printer tot haar uiterste grenzen te drijven en daarbuiten, naar het rijk van de speculatie, de provocatie en de curiositeit. Projecten die daarop reageerden werden later gepubliceerd in 'The 3D Additivist Cookbook'.
In het kader van de Shiv Integer tentoonstelling, nodigt iMAL Daniel uit voor een lezing over het Manifesto + Cookbook en voor een tweedaagse masterclass.
24 mei 2017, 19:00
BOZAR, Ravensteinstraat 23, 1000 Brussels
Registratie is verplicht!
25 & 26 mei 2017
iMAL, Koolmijnenkaai, 30, 1080 Brussels
Registratie is verplicht!
About #Additivism
The 3D printer is a profound metaphor for our times. A technology for channeling creative endeavour, through digital processes, into the layering of raw matter excavated from ancient geological eras. Considered as a tool for art, design and engineering, and gesturing towards a forthcoming era of synthetic chemistry and biological augmentation, 3D fabrication technologies are already a site of common exchange between disciplines and material modalities. 3D fabrication can be thought of as the critical framework of #Additivism: a movement that aims to disrupt material, social, computational, and metaphysical realities through provocation, collaboration, and 'weird' / science fictional thinking.
#Additivism is a portmanteau of additive and activism, gesturing to the scale at which new forms of action and intervention take place. Morehshin Allahyari & Daniel Rourke's Manifesto and Cookbook question whether it's possible to change the world without also changing ourselves, and what the implications are of taking a position. They are concerned with critiquing the role 'radical' new technologies might have in these changes, from fablabs, workshops, and classrooms, through to social, ecological, and global scales.
Allahyari & Rourke embrace the 3D Printer in the same way that Donna Haraway embraced the figure of the Cyborg in her influential text A Cyborg Manifesto (1983). By considering the 3D printer as a technology for remodeling thought into profound, and often nightmarish, new shapes #Additivism aims to expose in-betweens, empower the powerless, and question the presupposed.
More on additivism.org
About Daniel Rourke
In his work Daniel exploits speculative and science fiction in search of a radical 'outside' to the human(ities), including extensive research on the intersection between digital materiality, the arts, and posthumanism. In his artistic practice Daniel devises and creates collaborative platforms that promote open and critical discourse on the topics of media theory and posthumanism.
More on machinemachine.net
Praktische Info
LECTURE
24 May 2017, 19:00
@ BOZAR
Registration is mandatory!

MASTERCLASS
25 & 26 May 2017
@ iMAL
Registration is mandatory!
Een archief : 1999-2010-2019
Deze pagina is een archief van de iMAL website zoals die tussen 2010 en 2019 bestond. Alle activiteiten en projecten die sinds het begin in 1999 door iMAL georganiseerd zijn zijn hier gearchiveerd.
Het meest recente nieuws en activiteiten kan je terug vinden op onze nieuwe website: imal.org