GOBO GOBO HEY !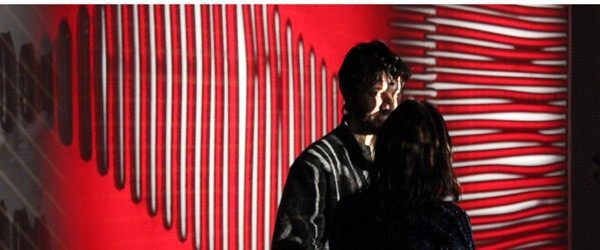 An exhibition by Cécile Babiole
La patte des machines
Between low and high tech, analogue and digital, obsolete and new media, Cécile Babiole, first artist in residency at iMAL FabLab, proposes a visual and luminous installation revealing the confrontation between the digital and the physical. Her Miniatures, small-scale musical instruments directly produced by 3D printers, will immerse you in the sounds of popular culture.

Between Low and High Tech, Analog and Digital, Obsolete and New Media...
"Cécile Babiole est la première artiste invitée en résidence de création dans le FabLab d'iMAL pour y produire une oeuvre originale, ici Gobo gobo hey. Cette invitation à travailler dans l'atelier de fabrication numérique n'est pas un hasard. Bien sûr comme beaucoup d'artistes plasticiens et numériques, Cécile aspire à s'éloigner enfin de l'écran et la projection, dispositifs phares devenus clichés des arts numériques des années 1990 et 2000, de quitter l'ordinateur et l'image virtuelle pour retourner au tangible et à la matière.
Mais Cécile a en plus la bonne distance 'historique' et décomplexée: c'est une artiste avec une longue pratique qui a connu toute l'évolution des arts technologiques allant du son électronique analogique aux arts numériques, de la vidéo à l'image digitale. Cécile travaille avec les machines depuis les années 80: musique industrielle avec synthés et bidouilles électroniques, vidéo puis images de synthèses dans les années 90, performances temps réel livecinema et installations interactives dans les années 2000,...
Entre pratique sonore et visuelle, elle joue avec et détourne sans complexes les technologies, qu'elles soient high ou low tech, domestiques ou sorties du monde industriel, obsolètes ou nouvelles, pour proposer une oeuvre ironique, interrogeant les codes et représentations, explorant les matières humaines (individuelle ou socio-culturelle), qu'elles soient celle de leurs représentations médiatiques s'accumulant au cours des générations technologiques successives, ou celle des mémoires, souvenirs et cultures (pop/rock ou digitales),...
C'est certain Cécile n'a pas peur des machines, et elle va leur faire sortir ce qu'elles ont dans les tripes...
La fabrication numérique est ce concept en plein essor oscillant entre retour vers un nouvel artisanat (numérique, durable, décentralisé,...) et renouveau consumériste par personnalisation à outrance. Elle regroupe ces nouvelles machines qui permettent de de programmer la matière, de manipuler les atomes comme les ordis le font avec les bits (0/1); elle est la boucle qui renvoie enfin le monde digital au monde physique. Mais c'est aussi la boucle qui nous remet face à la nature du monde physique: imprévisible, complexe, irréversible, et surprenante... Utilisant une lasercutter, machine numérique dernier cri à découper au laser, intégration de l'implacable précision du numérique et de la lumiere cohérente, Cécile nous dévoile les imprécisions de son électro-mécanique physique et sa perte de contrôle face à la matière.
Et elle le fait à sa manière : une proposition plastique lumineuse (au sens propre et littéral) où elle nous révèle combien le monde digital est régi par le monde physique et ses aléas, et plus particulièrement quand il veut s'en occuper. Une installation où comme souvent elle joue avec cette archéologie des médias, en mariant technologies délicieusement obsolètes et nouvelles. Ce seront de bons vieux projecteurs de dias qui nous révéleront en une composition de grande projections les territoires plastiques nés de l'impact violent du laser piloté numériquement contre la matière, ici du plexi. Un immense diaporama de projections lumineuses agrandissant ces grafs, glyphs ou écritures issus d'un autre monde, pourtant tellement manuels et proches de nos notations et représentations."
More info about Gobo Gobo Hey! and Miniatures...
More info about Cécile Babiole...
Practical Info
Opening: Thursday April, 19th
18:00-22:00
Free entrance!
Opening hours:
Wed>Sun, 12:00 - 18:00
Late-night opening:
Friday 11 May > 20:00
Saturday 12 May > 20:00
Open on Thu. May 17th! (Ascension)

Group visits
02 410 30 93
info@imal.org
Admission fees:
3€ (adults)
2€ (groups, students, unemployed)
0€ (-18 y.)
Location: iMAL
30 Koolmijnenkaai - quai des Charbonnages
1080 Brussels, BE
Credits
Gobo Gobo Hey is produced by iMAL.
With the support of the SCAM - grant Pierre Schaeffer 2012.
Thanks to Ludo Engels (LEAV) for the slide projectors.
Miniatures - Kits Sonores is a coproduction by La Filature, Scène nationale de Mulhouse.
In collaboration with Artbrussels.
An archive : 1999-2010-2019
This page is an archive of the iMAL website that operated between 2010 and 2019. It compiles activities and projects made since 1999.
For our most recent news and activities, please check our new website at https://imal.org