Toys revival
6 November 2013 - 18 March 2014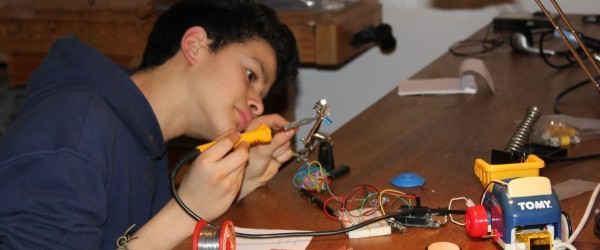 Education à la Fabrication Numérique pour les écoles de Bruxelles
Toys revival est un projet innovant conçu par Research in Brussels: l'idée est de proposer à des étudiants du secondaire de transformer des anciens jouets en les détournant ou en augmentant leurs fonctionnalités par modification ou ajouts de composants électroniques, mécaniques ou créés en fabrication numérique.
iMAL a été chargé d'organiser des workshops permettant aux participants des groupes francophones de s'initier à l'éléctronique et aux techniques de fabrication numérique et de les accompagner avec leurs professeurs dans la réalisation de leurs projets. Les ateliers se sont déroulés de novembre 2013 à février 2014.
Au total, 2 écoles secondaires (ACJ-Athénée Charles Janssens, EE-Ecole Européenne d'Uccle) et l'asbl Scientothèque, qui proposent des activités autour de la science et des nouvelles technologies à plusieurs jeunes bruxellois, sont venues travailler au FabLab.iMAL.
Cette activité extra-scolaire a amené les jeunes à réaliser des projets sortis tout droit de leur imagination, ayant recours aux machines de fabrication numérique (laser cutter, imprimantes 3D) à de l'électronique et mécanique, et à de la programmation. Ils ont bénéficié de l'aide de 2 formateurs: Julien Maire et Felix Luque, artistes et résidents au FabLab.
Une présentation publique est organisée à iMAL le mercredi 19 mars à 18h30, en présence des parents, famille, professeurs et amis, afin que les participants présentent leurs projets. Les étudiants donneront des explications sur les techniques et les technologies utilisées.
Un jury attribuera des prix aux différents projets: 2 imprimantes 3D Mendel 90 et 3 Starter Kit Arduino seront décernés.
An archive : 1999-2010-2019
This page is an archive of the iMAL website that operated between 2010 and 2019. It compiles activities and projects made since 1999.
For our most recent news and activities, please check our new website at https://imal.org