MATERIAL WANT
15 September - 23 October 2016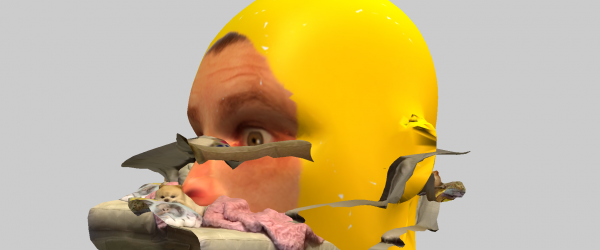 An exhibition by Matthew Plummer-Fernandez and JODI
The term "replication" is used not only to avoid the negative judgement that adheres to the idea of "copying" but also to include by definition that essential trait of repeating events which is trivial variation.George Kubler in The Shape of Time - Remarks on the History of Things, 1962
Matthew Plummer-Fernandez (UK/CO) is a young artist/researcher out of the Royal College of Art. He uses computational processes and digital fabrication techniques to produce digital alienations of everyday objects (e.g. 'Glitch Reality').
JODI (BE/NL) is an internationally recognised duo of net art pioneers. They create works in which they combine online and plastic interventions, using both internet vulnerabilities and the content of online social platforms.
MATERIAL WANT is the first collaboration of Matthew Plummer-Fernandez and JODI. Bringing together their respective practices, they explore hybridisations of algorithms, errors, Internet found objects and digital fabrication. The result of this joint effort? A series of 3D-printed sculptures, uncanny, yet familiar objects, between incongruous assemblages and distorted reality.
Browse through their 3D objects shop: shop.materialwant.co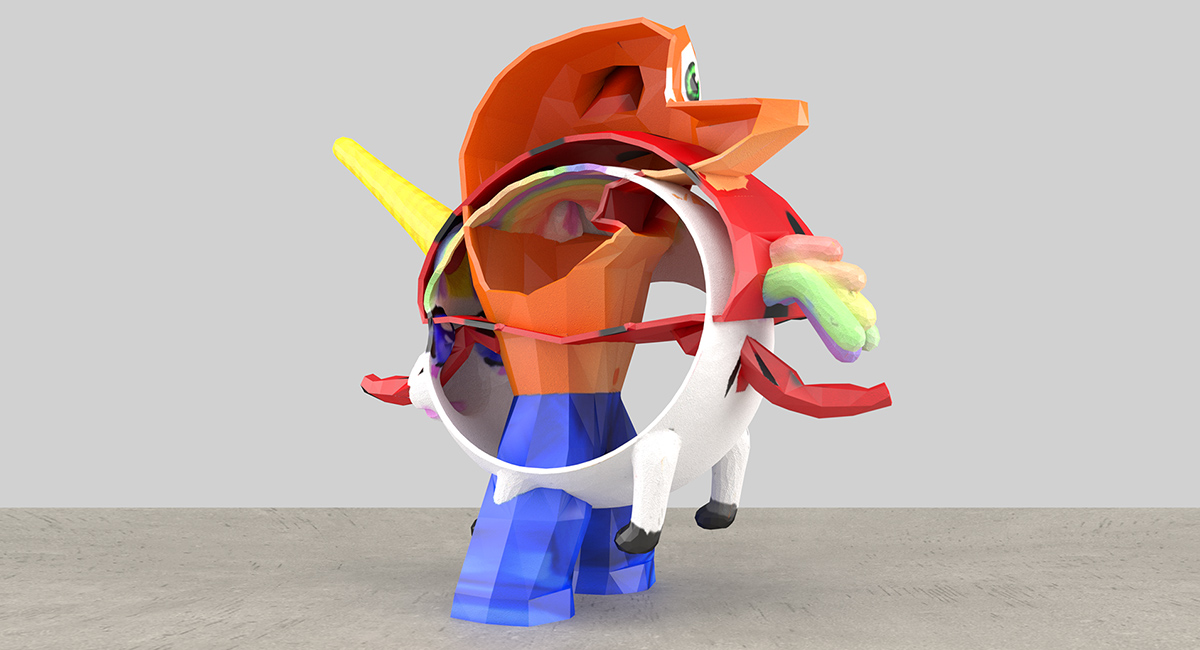 MATERIAL WANT is a continuation of the artistic practices of readymade and assemblage that appeared in the early 20th century with Marchel Duchamp, Dada and Surrealism. But in today's digital world objects can exist without any physicality, such as in the form of a 3D file: born from scanning or created, then copied exchanged or modified before eventually becoming a tangible material object. These are the found objects that Matthew Plummer-Fernandez and JODI have used as the raw matter for their sculptures. Collected by bots from the many internet sites publishing the 3D creations of millions of amateurs, they constitute a snapshot of this entropic popular production enabled by digital tools and networks, blending individual creativity with 3D scans, copies and variations of everyday items or icons of mass culture.
Other bots will subsequently remix these found objects in a multitude of assemblages as uncanny and as beautiful as the chance meeting of a sewing-machine and an umbrella on the dissecting table (Lautréamont, Chants de Malrodor, 1869). At the end of this generative process the artists will carefully select some of these mashup objects and refine them to allow their passage from the virtual to the material world, thanks to 3D printing.
Parallel to these 3D sculptures, the exhibition presents a video installation showing virtual objects from the website MATERIAL WANT, a sort of e-shop featuring the spontaneous production of virtual objects created by these generative processes in a continuous flow of new random and realtime hybridisations assembled by computers from our very human productions. This e-shop is a kind of parody of the magical digital world where algorithms designed by huge corporations flood us with human-like generated content designed to better ensnare us. It just lacks a button to materialise it...
In the same way as the artists at the beginning of the 20th century reacted to the industrial mass production of the objects of everyday life, MPF and JODI point to the forthcoming automated production of cultural content, be it immaterial or physical.
The objects presented in MATERIAL WANT are not smooth and standardised, but created by artists running their wild bots in the digital arena. They are as singular as any works of art.
Additional Texts
by Matthew Plummer-Fernandez:
Material Want enacts a Ballardian scenario where content from 3D modelling and 3D scanning archives is mined for the production and sale of 3D printed objects, transforming junk files into saleable items. A present/future that follows the past...
(Read More)
by Hans Verhaegen:
The mashup results spinning at iMAL are often very funny. The sculptures on display might be seen as 3D printed jokes. A frog in the Brussels Atomium. A hollow SnoopDogg looking at his fingers. Yoda crashed into a pixelated phantom. At the same time it also has something depressing...
(Read More)
Artists' biographies
Matthew Plummer-Fernandez is a British-Colombian digital artist and researcher who explores the relationship between digital aesthetics and artistic production. He was born in London, raised in Colombia and holds a BEng in Computer Aided Mechanical Engineering from Kings College London and an MA in Design Products from the Royal College of Art London.
Matthew uses computational processes and digital fabrication techniques to produce digital alienations of everyday objects. Customized software, replicability and generative techniques are the focus of his exploration of the automated systems that operate within digital culture and the physical world. Using 3D printing Plummer-Fernandez transforms everyday images into sculptural glitches; he makes modified data-files and distorted 3D printed objects as "recomposed" abstract geometric shapes.
Matthew has been commissioned by arts organisations such as the V&A, Rhizome, Arts Co, and It's Nice That and has shown in galleries and museums, including Zhulong Gallery, Dallas; Onassis Cultural Centre, Athens; Cyberarts / Ars Electronica, Linz; Brighton Digital Festival and FACT Liverpool. MPF is represented by Nome Gallery, Berlin.
Joan Heemskerk (NL) and Dirk Paesmans (BE) —the duo behind the artist collective JODI— are considered as leading pioneers of net art. They produce video and new media works that play with the increasing presence of technology in our daily lives. JODI disrupts and disassembles ubiquitous software, video games, and popular internet platforms such as Google Maps and Twitter, cultivating coding malfunctions and programming glitches. Concerned with exploring the chance, uncanny products of these system breakdowns, Heemskerk and Paesmans suggest a new aesthetics for the digital age.
Their works have been included in many international exhibitions and festivals: Documenta X in 1997, Rotterdam (DEAF98), ZKM (net_condition, 2000), Tokyo (2001, 2002), Madrid (Arco/De-game, 2001), Berlin (Transmediale: 1997, 2000, 2002, 2006), New York (1997, 2003, Guggenheim/2004, 2005, 2007), Chicago (ISEA97), Plug-In (Basle, 2002), Paris (Centre Pompidou/2003, 2004, 2006), SFMOMA (San Francisco, 2004), Montevideo (Amsterdam, 2006), Stedelijk Museum (Amsterdam) in the 'Deep Screen - Art in Digital Culture Proposal for Municipal Art Acquisitions 2008'.
Solo exhibitions include GEO GOO at iMAL (2008, Brussels), INSTALL.EXE at Eyebeam (New York), which toured to [plug-in] (Basel), and BuroFriedrich (Berlin)and Computing 101B at FACT Centre (Liverpool).
Practical Info
Opening
Thursday September 15 2016
18:30 - 22:00
Facebook event
Exhibition
September 16 - October 23 2016
Wednesday - Sunday, 13:00 - 18:00

Free entrance!
Group visits
+32-2-410 30 93
info@imal.org
Location: iMAL
Quai des Charbonnages 30 Koolmijnenkaai
1080 Brussels
Matthew Plummer-Fernandez & JODI
Credits
Concept & realisation: Matthew Plummer-Fernandez and JODI with Philipp Teister
Production: iMAL
Thanks to i.materialise for their precious support.
In the framework of Saison des Cultures Numériques

An archive : 1999-2010-2019
This page is an archive of the iMAL website that operated between 2010 and 2019. It compiles activities and projects made since 1999.
For our most recent news and activities, please check our new website at https://imal.org