Video Game for Art
27 oktober - 28 oktober 2018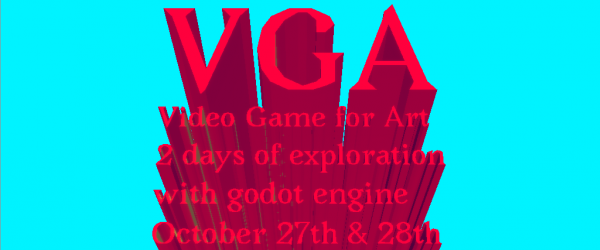 Een introductie tot de Godot engine
Tijdens deze tweedaagse workshop ontdek je het potentieel van Godot, een gratis en open source videogames engine. Via een reeks kleine demo's maak je kennis met de verschillende aspecten van realtime 3D-projecten: het importeren van objecten, het maken van materialen, het beheren van verlichting en camera's, en natuurlijk scripting, waarmee interactiviteit wordt geïntroduceerd.
De workshop richt zich op het gebruik van deze tools in een artistieke context, in het bijzonder via het OSC-protocol. OSC zal Godot in staat stellen om te communiceren met andere software die wel vaker gebruikt wordt in de digitale kunsten, zoals SuperCollider, Puredata, IanniX, en meer!
Deze workshop wordt geleid door de kunstenaar/ontwikkelaar/lesgever François Zajéga.
Over Godot
Godot is een videogame engine, een complete tool voor het maken van videogames en interactieve ervaringen, uitgebracht onder een MIT licentie. De ontwikkeling ervan wordt ondersteund door een internationale gemeenschap. Versie 3 werder eerder dit jaar uitgebracht. Omdat het eenvoudiger te hanteren dan concurrerende tools, stelt het zelfs beginners in staat om game-achtige ervaringen te creëren..
Officiële website: https://godotengine.org
Download: https://godotengine.org/download
Voorwaarden
Basiskennis in 3D of scripting (python, javascript, lua, etc.) is een pluspunt, omdat we geen tijd hebben om jou op twee dagen tijd kennis te laten maken met deze domeinen.
In praktijk
De workshop vindt plaats op zaterdag 27 en zondag 28 oktober, op de 25ste verdieping van de WTC Tower I / Albert II Boulevard 28-30 / 1000 Brussel.
Aangezien de toegang tot het gebouw buiten de kantooruren beperkt is, is het zeer belangrijk dat je uiterlijk 2 dagen voor de start van de workshop werd ingeschreven.
Wat breng je mee?

een recente laptop
Godot, reeds geïnstalleerd voor de start van de workshop, godotengine.org
Als je 3D models wil creëren of aanpassen is het aangewezen om de 3D modelling software Blender te installeren op jouw computer.
* Godot 3.0 requires a GPU compatible with OpenGL ES 3.0, which includes:
- Nvidia GeForce 8000 series (2006), and more recent models
- Radeon 2000 series (2007), and more recent models
- Intel HD Graphics 2000, that were integrated with 2011's Intel Core i3/5/7 2xxx series (aka Sandy Bridge), and more recent models.
If you only have an Intel HD Graphics chipset, it might be necessary to update your Intel display driver.
Praktische Info
27-28 oktober 2018, 10:00 - 17:00
Het aantal plaatsen is beperkt!
Graag registratie via dit formulier voor 25/10!
Prijs: vrije bijdrage
Location: F\LAT
World-Trade-Center Tour I
25ste verdieping
28-30 Koning Albert II laan
Brussel
De workshop wordt gegeven in het Frans.
(François begrijpt en spreek ook Engels)
Header pic by François Zajéga
2 & 3 by Xavier K.
Credits
This workshop is lead by François Zajéga, artist/developer/teacher living in Brussels, in the framework of his libre videogame bazaar polymorph.cool.
The workshop space is made available by F\LAT, Free \ Libre Art and Technology.
Een archief : 1999-2010-2019
Deze pagina is een archief van de iMAL website zoals die tussen 2010 en 2019 bestond. Alle activiteiten en projecten die sinds het begin in 1999 door iMAL georganiseerd zijn zijn hier gearchiveerd.
Het meest recente nieuws en activiteiten kan je terug vinden op onze nieuwe website: imal.org