Popsongs
Wednesday, 29 September 2004 | 22:00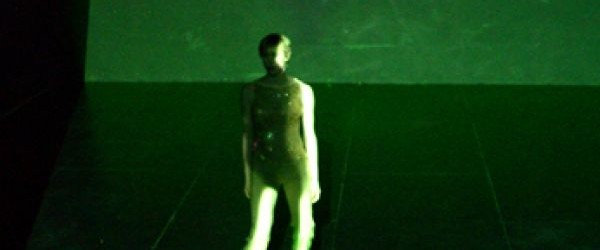 « Popsongs » is een solo in concertvorm waar Melanie Munt de muziekaliteit van beweging onderzoekt, in andere woorden, hoe kan je zingen zonder stem, enkel met je lichaam ? Melanie presenteert een repertoire aan in stilte gedanste liedjes, elk in een andere sfeer, waarbij de beweging van het lichaam de muziek uitdrukt of visualiseert.
Er zijn het romantische liedje, het minimalistische liedje, het rock'n roll liedje, het repetitieve liedje ...
Het enige andere « fysieke » element op de scene is het bewegend licht, ontworpen door cineast Tom Heene in samenwerking met multi-media kunstenaar Yacine Sebti. Wat als het licht meer wordt dan een spot die kleur geeft aan de danseres ? Wat als haar schaduw tot leven komt en vorm krijgt ? Wat gebeurt er als het licht reageert op de bewegingen van de danseres , en vervolgens de danseres reageert op de beweging van het licht ?
Pers :
"Elle a dansé pour une foule de chorégraphes (…) et, à chaque fois, sa rigueur d'interprète convainc, sa précision fait mouche. (…) On découvre une demie heure d'une performance étonnante, qui allie l'électricité du geste à la surprise technologique. (…) On pense aux frères Lumière, aux fantasmagories de Robertson… La puissance de la danse n'en pâtit pas - elle s'en enrobe plutôt - (…)"
(Laurent Ancion, Le soir, 2.4. 2004)
Une coproduction du Théâtre de L'L, de Quoi d'Autre asbl et de Nadine vzw.
Avec l'aide du Ministère de la Communauté française Wallonie-Bruxelles – Service de la Danse, de la Commission Communautaire française – Réseau des Scènes Chorégraphiques et de la Vlaamse Gemeenschapscommissie.
Avec le soutien de la SACD (1500 heures pour danser), du Théâtre de Namur, de iMAL asbl (conseils et équipements spéciaux "motion tracking") et de Périactes.
Diffusion par Margarita production.
Met de steun van Met de steun van Théatre Océan Nord.
An archive : 1999-2010-2019
This page is an archive of the iMAL website that operated between 2010 and 2019. It compiles activities and projects made since 1999.
For our most recent news and activities, please check our new website at https://imal.org